Communications
Passion Paves Career Path for Lynch Scholarship Recipient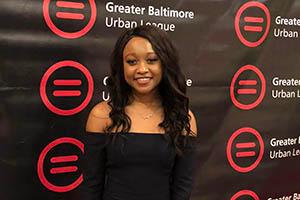 Briana Bell, the 2018 recipient of the Dotty Lynch Scholarship, said she always knew she wanted to get her master's at American University.
"I love my classes," Bell said. "I love my professors. They have so much knowledge that they can give us, so I'm excited."
She said AU School of Communication's (SOC) Political Communication program combines her passions for social justice and advocacy, and that studying in the nation's capital motivates her to figure out how she can use her skills to pursue what she loves to do.
"Make sure you're doing good, but also passionate about the work that you do," Bell said.
Bell, who is in her first of two years in the program, said she is interested in political consulting or campaign management. She said she wants to find an internship for next semester that involves critical consulting, campaign management, and/or strategy at a public relations firm.
"I'm trying to get as much experience [as I can] in each thing I'm interested in," she said. She already has a strong track record of communication work for several non-profit groups.
Originally from New York, Bell graduated from Syracuse University in 2017 where she studied sociology, political communications, and advertising.
She studied abroad in London and interned there with Operation Black Vote, a nonprofit and nonpartisan organization working to ensure justice and equality for minorities.
Her most recent internship before starting at AU was for the nonprofit advocacy group and think tank, Public Citizen. She worked on the Democracy Is For People campaign in Syracuse, which aims to sustain voter outrage over a rigged campaign finance system.
Bell also did a service year with AmeriCorps working as a college and career readiness coordinator at the Greater Baltimore Urban League.
"I was working with the youth and working to better their lives and better the community," Bell said.
She said she was a part of the communications team there as well.
"They tasked me with that because of my knowledge and expertise with it," Bell said. "In doing that, it just made me realize that communications is what I should be doing."