Communications
Meet 2022 Undergraduate Commencement Speaker, Fanny Ahman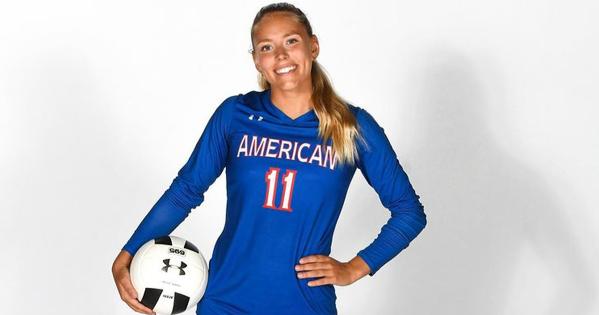 If you can believe it, it was a simple Google search that got Fanny Ahman to American University (as well as being a beast on the volleyball court). "I literally Googled 'best journalism schools in the US,' and AU came up as the top 3 school," she said. After transferring from Texas A&M Corpus Christi where she spent her first two years of college, Ahman is now graduating from the School of Communication (SOC) with a bachelor's degree in journalism, and the honor of being this year's undergraduate commencement student speaker. 
As a student-athlete, she's learned so much on and off the court that she plans on taking with her after graduation. In fact, having a plan was a big part of Ahman's strategy for tackling her sport and her studies during her time at AU. "The classroom and volleyball court both demand discipline, a good work ethic and working towards a goal," said the Sweden native. 
We asked the volleyball player a few questions about being an athlete, what it was like to study in SOC, and about her future. Get to know more about Fanny Ahman: 
What did you enjoy most about the Journalism program at SOC? Any favorite classes or professors? 
Fanny: SOC is full of great knowledge and resources! I loved my documentary class with Prof. Gentile and the ethics class with Professor Perri. Both great people and professors! 
How did SOC prepare you for work opportunities outside of the classroom? 
 
Fanny: SOC gave me the confidence to "just go for it" and approach unemployment with the feeling that there's endless opportunities out there. 
How did you maintain your positive attitude towards volleyball and academics? 
Fanny: I love learning, getting better and meeting new people, so it's always fun to walk into the gym or the classroom when I get to do all of that. Life also becomes more fun when you approach it with positivity. 
What was your go-to study spot on campus? Best place to eat? 
Fanny: Library, period. Subway, period. 
What's one lesson you learned during your time at AU that you'll take into your post-grad plans? 
Fanny: You can easily get sued for defamation. 
What's one piece of advice you would give to future SOC student-athletes? 
Fanny: Plan, plan and plan! And make sure you talk to your professors, they don't bite. 
 
What do you hope to do post-graduation? 
Fanny: Get a job that I love, that challenges me, and is fun.