Communications
Giving Back Through Mentorship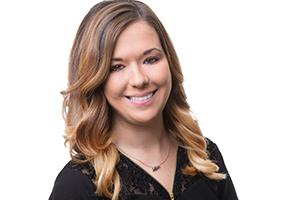 Megan Lilly, Global Digital Marketing Manager at Hilton and American University School of Communication (AU SOC)  alumna, will be returning to SOC this year as part of SOC's Alumni Mentorship Program. Through this program, she will be paired with a current SOC student and will provide them with advice and support as they transition from the classroom to the workforce. 
"I really wanted to give back," says Lilly, who found her first job out of college at an AU Career Fair. "I want to give another student a chance to feel like they have a resource and a supportive person. It was a natural thing to want to do."
The mentorship program, which has been pairing students with alumni since 2002, has helped over 700 students grow their network and get advice from working professionals who have been in their exact shoes. It is administered through a partnership between SOC and the AU Career Center. The program is open to SOC graduate students, and undergraduate juniors, seniors, and highly motivated sophomores. An accomplished, engaged alumna like Lilly, who has also worked at digital marketing and e-commerce agencies, is exactly the kind of mentor students are seeking to find in the program.
While at SOC, Lilly majored in Public Communication and minored in Graphic Design. The positive relationships she developed with SOC professors are at the heart of her decision to stay involved and pass on her experience. To this day, she says she maintains her SOC faculty connections. She also enjoyed the wide range of classes she took at AU, which gave her the chance to develop many different skills. This is a boon to her work in the marketing industry.
One of her favorite things about her field is the many different specializations; from creative work to data and analytics, there is something for everyone. Lilly describes her SOC experience and knowledge as the "common thread" connecting all the jobs she has held so far.
Lilly says professional mentorship has played an important role in her career. She has found mentors in all of her workplaces. "Mentors help you navigate the path," Lilly says. She looks forward to playing that role for a student finding their way toward the workforce. To students interested in pursuing professional mentorship, Lilly urges them to see the relationships as organic, not transactional. "Going into it with an open mind and curiosity really goes a long way," she said.
The deadline to submit an application for 2019-2020 program is Wednesday, September 22.