Sony Taps Film Students for NAB 2016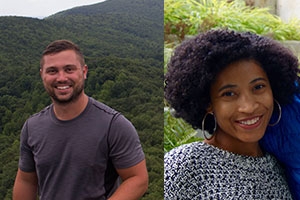 MFA students Shannon Lawrence and Nick Zachar will attend the National Association of Broadcasters (NAB) Show in Las Vegas this April. Both master's students were selected to assist at Sony's booth and gain first-hand experience with the latest technology in mass communication. 
Lawrence and Zachar both have undergraduate backgrounds in Biology and have received awards from the Center for Environmental Filmmaking to further their work; Lawrence is currently focusing on promoting social change through film while Zachar has used his work to raise awareness on a range of environmental issues. But for six days in Las Vegas, they will both be focused on the latest in film and communications technology.  
The NAB Show is a coming together of all the cutting-edge technologies across various sectors within the industry. Virtual reality, drone technology and more will be featured at the conference.