Alumni
Social Impact: Promoting Public Health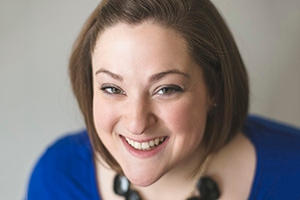 Michele Alexander is a Senior Coordinator for Public Health at Burness. Prior to joining Burness, Alexander was a digital strategy assistant with Veracity Media. She also worked as a policy, advocacy and communications associate at the global health nonprofit, Management Sciences for Health (MSH). While at American University earning her MA in Strategic Communication, she worked as a graduate fellow with the Center for Media & Social Impact.
Q: Why did you choose to attend American University and the School of Communications?
MA: I chose AU because I wanted to stay in the DC area and I was looking for a program where I could tailor my studies to my interests/career goals - public health and social impact communications. I had reached a point in my previous job (I was a policy, advocacy and communications associate at a global health nonprofit) where I was ready for something new and I knew a graduate degree would help my career down the line. During my work, I had developed an interest in communications but almost all of it was self-taught, so I wanted to get more "formal" training in the field and develop stronger communications writing and research skills.
Q: What attracted you to apply to the SOC Strategic Communication MA program?
MA: A big draw for me was that it's a one-year program. I knew I wanted to go full time but didn't want to leave the workforce/my network for very long, so this was a perfect fit. I also was drawn to the program because it included a capstone, which, like the rest of the program, I could tailor to my interests. So, I was able to complete a capstone on a topic I was passionate about. Receiving a research assistant position with Professor Caty Borum Chattoo was also huge - when I was selected for that, I knew I would be able to contribute to research in the field and further develop my skills while I was doing my degree.
Q: What did you take away from your experience as a student in the School of Communication?
MA: I took away a better understanding of communications and how it can be used for social change. I was able to select classes that helped strengthen my understanding of health, crisis, and advocacy communications as well as conduct and contribute to research for professor Chattoo, helping me to see how communications, academics and practitioners can learn from one another to create change. I also had an awesome cohort during my program - we were all very close and each of us brought different skills and experience to our classes, which helped me to learn from them and become a better communicator.
Q: What is the most important skill that you learned during your time in the Strategic Communication program that you have applied to in your job at Burness and other work experience since you graduated?
MA: I think the most important thing was learning how to translate research into practical communications applications. During the strategic communication program, we're really taught how to use various communication theories and existing research to create communications plans and address communications problems/challenges. I am constantly applying theories to my work at Burness - from framing issues appropriately to understanding the influencers and types of media to use to reach our audiences. The strategic communications program really helped me add a more substantive, informed understanding of communications to the experience I had coming into the program.
Q: Talk about your experience as a Fulbright Research Fellow and how it has had an impact on your career so far.
MA: My experience as a Fulbright Research Fellow really helped me figure out what type of career I wanted and what I was passionate about. While I was in Ukraine, I was able to improve my research skills and found that I enjoyed studying public health issues. But even more than studying them, my time there helped me realize how much I enjoy promoting and advocating for public health programs and policies. My Fulbright fellowship is what drove me to find a job at a global health nonprofit, and from there I became interested in how I could use communications to create change, especially in the public health space, which is what I do now at Burness. Every day, I help clients who are doing incredible public health work promote their findings and reach their audiences with the goal of improving the health and well-being for all.