Communications
Moving from Dream to Reality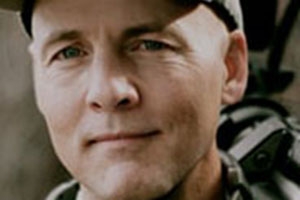 Kent Wagner joined American University's MFA program in the fall of 2015 planning to get a degree. Little did he know that the program he had joined would lead him to something much bigger. 
His first year in the program, Wagner was asked if he'd be interested in making a film about palm oil and deforestation in Borneo, a rugged island in Southeast Asia's Malay Archipelago. However, he found that a lot of that ground had already been covered by other filmmakers, so he searched for an angle that hadn't been touched yet. 
"As I've dug further in the topic, I realized that the story of the native people has not been adequately covered, so I wanted to focus on that," Wagner said. 
The film, which unfolds from the perspective of Borneo's indigenous people known as the Dayak, will focus on uncovering the exploitation of natural resources and will examine the effects it is having on wildlife habitat. "These folks have lived there for thousands of years and have relied on the forests for everything," he said. "Our film looks at the choices and consequences the Dayak people face as they watch the rainforests disappear."
Originally from New Hampshire, Wagner is a traveler and has lived in Boston, Colorado and Arizona. He grew up spending a lot of his time in the outdoors with a vast interest in natural history and earth sciences, which Wagner says later grew into an interest in the environments. 
"Working as a photographer, I was mostly shooting adventure sports and I began to feel that showing people how to enjoy these beautiful outdoor spaces was all well and good, but I felt I could (and should) be doing more. So, I made a bit of a career change," he said. 
Wagner then started thinking about the prospect of going to graduate school. He looked at several schools across the country, but AU's School of Communication caught his attention especially because of its location and its warm faculty. 
"Really, it was coming here in person, about a year before the program started, and meeting with Chris Palmer, Bill Gentile, Larry Engel and John Douglass, and learning about the Center for Environmental Filmmaking that convinced me this was the right place," he said. 
Wagner has been getting help from the Center for Environmental Filmmaking and other resources to fund his film project. He has twice received the Center for Environmental Filmmaking's Center Scholars Award, the Mavis and Sidney John Palmer Scholarship, and the Center for Environmental Filmmaking's Challenge Prize. 
"It's safe to say that my project would not exist if it weren't for their initial support and it would not have morphed into the scale it has without their continued support, it's made all the difference," he said. 
Chris Palmer, founder and director of the Center for Environmental Filmmaking, said that Wagner is one of SOC's top graduate filmmakers dedicated to learning, creative, hardworking, and determined to make films that have an impact. 
"I can tell you that the Center is enormously pleased to be supporting Kent's film, both financially and creatively," Palmer said, "I'm very proud to be a part of Kent's film. It is a great honor." 
Wagner has also been awarded a student fellowship grant from the Pulitzer Center on Crisis Reporting. It not only provided him a monetary award, but has helped him make valuable connections with photojournalists who have worked in Borneo in the past. "They've given me critical advice about working there," he said. 
Wagner has been to Borneo once and plans to go back this summer. "I have to schedule everything in between being a full-time student," he said. 
He encourages anyone with a similar dream to never give up and work hard till they get to where they want to get. His advice; "Choose a project you want to live with, break it into small steps, stay focused, ask for help and advice, repeat." 
Links: 
Center for Environmental Filmmaking:
"Student fellowship grant" from Pulitzer Center