Government & Politics
Live from New Hampshire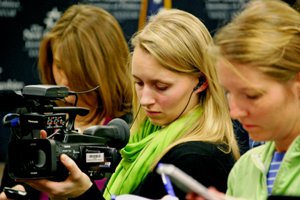 From the moment they got off the plane, 34 AU students attended rallies, covered and analyzed national debates, toured national media facilities, and interviewed supporters and detractors of the five Republican presidential candidates. With little sleep and a lot of commitment, the students and faculty are back on the road today doing exit polling and will be filing live tonight as the final votes come in. Follow the class on Twitter #AUNH2012 and see photos and read full articles at the American Observer.
The mixture of graduate and undergraduates from AU's School of Communication and School of Public Affairs, led by a seasoned, expert media faculty possessing more than a combined century's worth of campaign, political journalism experience and over a dozen New Hampshire primaries, are in Manchester, New Hampshire, as part of their class Communicating the 2012 Election. Together, they have been experiencing the primary in a real world, breaking news environment with a serious dose of reality–16 hour work days, frigid New Hampshire weather, and searching for the story that perhaps nobody in the national press corps has hit upon. Another component includes an analyses of poll data, the content of campaign communications, social media strategies, paid advertising, and the role super PACs are playing to finance campaigns.
TUESDAY – PRIMARY DAY
One group of students started off the day at the LA Times newsroom with professor Carrie Giddens where they ran into Joe Scarborough and Mika Brzezinski who invited them to the Morning Joe show. Taryn Bunger, Shannon Rice, Sarah Morgan, Liz Perez, Tyler Tillett, Elise Tollefson attended a live taping of Morning Joe on and appeared on camera, their parents watched from home.


C-SPAN interviewed students Jose Morales and Allison Green about the course and what they had observed in New Hampshire, and professor Dotty Lynch about the primaries.


More than a dozen students conducted exit polling for the Concord Monitor. They also posted a Storify account of their primary day experiences to the Monitor's Newsblog.


Students also attended a lunch at the paper where the Washington Post's Dan Balz discussed the race with Concord Monitor reporters. This is a long tradition between the Monitor and the Post and in 2008 our students were there for David Broder's final New Hampshire primary lunch discussion.


RealClearPolitics.com ran a by-lined article from professor Richard Benedetto on Huntsman's campaign Tuesday night, students will be attending various campaign rallies and speeches.
MONDAY
Students Angeli Gabriel, Rhys Heyden and Jose Morales, covering a John Huntsman event at a local coffee shop on Sunday are captured by AP photographer and end up on the front page of Monday's Washington Post. A second photo from the event featuring Jose Morales also ran on Politico.com.


SOC senior Stefanie Dazio shadowed Steve Scully from C-SPAN while several more students got an hour guided tour of NBC/MSNBC from John Harwood.


David Schultz, a master's student in SOC's journalism program, filed live from NH for NPR's WAMU 88.5
Students interviewing Dan Rather were lucky enough to run into New York Times columnist Maureen Dowd and Editorial page Editor Andrew Rosenthal. See photos

SUNDAY
Six students started the day in the hall and spin room at Sunday's NBC/Facebook debate, thanks to three AU alums who were key players in the event: Meet the Press host David Gregory and Executive Producer Betsy Fischer and Facebook's Andrew Noyes, who is also an adjunct at SOC. Read more


The students at the NBC/Facebook debate got great interviews with Chuck Todd and former New Hampshire Gov. John Sununu.


Students interviewed people at shopping centers and restaurants as they fanned out across Manchester and to nearby towns to talk politics with area residents and political tourists who came to see for themselves what is happening in the state.


And students Ty Tillett, Jose Morales, Doug Bell, and Josh Lapidus also visited the Occupy New Hampshire Primary site in a park in downtown Manchester and interviewed several of the protesters.


Students also met and talked to journalist Joel Achenbach of the Washington Post; analyst Mark Shields from PBS; and sports reporter Christine Brennan from USA Today (who always comes to the New Hampshire primaries to soak up politics). They also met the head of the Democratic National Committee, Rep. Debbie Wasserman Schultz (D-Fla.), who gave them an interview following a press conference, and attended the ABC-Yahoo-WMUR debate at St. Anselm College. ABC's Amy Walter and Rick Kaplan also spoke to students.
SATURDAY
Hannah Blatt, Elise Tollefson, Shannon Rice, and Allison Terry were among several AU students who covered ABC's GOP presidential debate in St. Anselm's College in Manchester, New Hampshire live from the filing center.


Adjunct Professor Richard Benedetto, a longtime USA Today political reporter, joined AU students at a New Hampshire rally on Saturday during an unusually warm day. Photos and story