Communications
New MA in Media, Technology & Democracy Prepares Students for Policy Leadership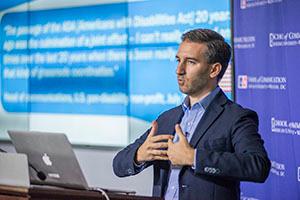 Times of crisis remind us that communication is the cornerstone of democratic governance. That's as true for climate change, the Black Lives Matter movement, and election integrity as it is for COVID-19. To help future policymakers, advocates and policy professionals anticipate and navigate challenging times to come, American University School of Communication (AU SOC) will launch a new, one-year master's program in Fall 2021.
The new MA in Media, Technology & Democracy responds to the growing demand for policy professionals with the knowledge and skills to support civic life, social justice initiatives and cultural innovation.
"Today's burning issues—disinformation, privacy, surveillance—all happen at the convergence of media, technology and democracy," said Professor Patricia Aufderheide, director of SOC's PhD in Communication. "In this program, students work with scholars and professionals to understand these issues in depth. Master's students study together with first-year Ph.D. students in an intensive, program that grounds them in core issues affecting communication policy and provides them a closely-mentored research process tailored to their own interests and aspirations." Graduates of the new program will be prepared to take on leadership roles in media, government, or non-profit organizations, or to pursue a PhD in communication studies.
The new master's program advances SOC's commitment to preparing the next generation of media leaders and changemakers. It also leverages the unique expertise of SOC faculty and its advantageous D.C. location. The MA joins the School's prestigious BA and PhD programs in media, technology and democracy. The faculty are internationally renowned. Professors like Laura DeNardis, whose most recent book "The Internet in Everything," was published in February, win recognition for and make change with their work in areas such as internet governance, civic engagement, copyright policy, regulation of social media platforms, social movements' use of social media, public broadcasting, racism in popular media, and online disinformation.
Another strength for SOC is American University's location. The school's proximity to and relationships with national media organizations, NGOs, government agencies, and policy thinktanks, gives students and faculty regular access to leaders and policymakers, both inside the classroom and out. Students also have access to research networks in SOC's Center for Media & Social Impact (CMSI) and the Internet Governance Lab.
Because it was designed for working professionals with experience in communications, the new MA in Media, Technology & Democracy is different from existing SOC graduate programs, such as the MA in Strategic Communication or the MA in Political Communication, in several ways. First, the curriculum builds upon students' existing expertise and skills with PhD-level coursework in communication history, theory, and law. In addition, students will learn practical qualitative and quantitative research methodologies they can apply directly in their existing professions, or to get a leg up in a field they aspire to.
Second, it gives students ample opportunities to explore an issue, or area of interest, in depth. After completing the core courses, students may choose electives from among the courses at SOC, School of International Service, School of Public Affairs, the Game Studies program, and the broader consortium of DC-based universities. Then, to complete the required research practicum and final thesis, students will be encouraged to examine a topic that affects their organization or professional life, and to create a valuable, impactful, and public-facing final product.
"This program helps students combine theory with practice," said Professor Aram Sinnreich, who designed the MA as director of the Communication Studies division in the school. "We work closely with each student to craft publishable research targeted to their personal passions and professional ambitions."
Finally, working professionals will appreciate the flexibility built into the program. Students may complete the 30 required credits in one year, studying full-time, or two, studying part-time. They will develop and execute the final research thesis outside the classroom, with online guidance and supervision, giving them even more control over their schedules.
For students interested in pursuing a PhD, the new masters provides excellent preparation to continue their research. And, if a graduate is accepted to SOC's PhD in Communication, their masters program courses will count toward the degree requirements, allowing for more flexibility in choosing doctoral electives.
"We look forward to meeting the ambitious, curious, and creative professionals who want to understand what's beneath the surface of today's cultural trends and communication systems, and work towards building a more just and equitable future," said Prof. Sinnreich.