Communications
Students Capture Issues and Faces of the 2016 Presidential Race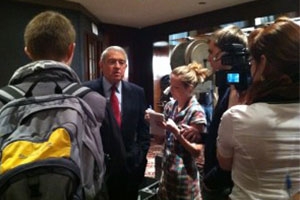 When the worlds of politics and media converged in New Hampshire for the nation's first primary this February, a group of American University students were right in the mix. A combination of School of Communication (SOC) and School of Public Affairs (SPA) undergraduates and grad students had the opportunity to experience first hand the beginnings of what has become a polarizing, can't-take-yours-eyes-off, 2016 election. 
As the presidential race comes around every four years, so does this course, which was started by SOC professors Lynne Perri, Bill Gentile and the late Dotty Lynch in 2008. Since then, SOC and SPA professors have brought students to the last two New Hampshire primaries with plans of going again in 2020. 
While in New Hampshire, students met with a wide range of people coming from both media and political backgrounds. Daniel Kuhn, a SPA grad student studying public administration and self-declared political-junkie savored this opportunity. 
"It was special to see the spectacle first hand and interact with everyone involved in the first in the nation primary," Kuhn said. "From journalists, to the candidates, to campaign staffers, political tourists and regular people, it was a really unique experience." 
Students from both schools took part in covering the primary and contributed stories and photography to the course's website. SPA students took on the challenge of writing concise stories in AP Style while SOC students subsequently worked on longer formats of writing with more in-depth statistical and polling analysis than they may have been used to. 
"Having different strengths within the class and seeing people with a different skill set than you was interesting," Kuhn said.
The course didn't stop after New Hampshire as students spent the rest of the semester putting together short documentaries that share stories, movements and unique angles from the primary in February. Working in groups or individually, students used footage they got in New Hampshire in addition to any supplementary filming they did back in D.C. to piece together a cohesive video. >
Groups were intentionally made up of a mix of SOC and SPA undergraduates and grad students. SOC junior, Wes Young, brought his experience majoring in broadcast journalism and minoring in women's, gender and sexuality studies to his group's video on the effects of political advertising. 
"Comparing journalism and poli sci students, our minds go in different directions at first, and then we get to hear each other contribute to a discussion or activity in a way that isn't as natural to our own," Young said. " As someone who, somewhat, splits my time between SPA and SOC, I enjoyed seeing this play out during this class, and especially up in New Hampshire."
In addition to his group's video on how the media portrays candidates in general and celebrity candidates specifically, Kuhn took on an individual project with the help of professor Gentile. After running into an acquaintance at a John Kasich town hall, Kuhn began working with advocates who have been working tirelessly help gain recognition for people with disabilities and put their issues on the forefront of the election. After producing a two minute video on this topic, he showed it to professor Gentile who told him to run with it. 
"Having him there to help with the storytelling aspect as well as the feedback he gave was extremely helpful," Kuhn said. 
The course culminated with a screening of each of the short documentaries on April 19 somewhere at some time. Naturally, students are excited to see their final work and reflect on the the course in general. 
"The NH Primary course was such an amazing opportunity that students can really only get when you come to a school like AU," Young said. "It was grueling, exhilarating and overwhelming, but always in the best of ways."