Communications
Nicole Cusick Named SOC Staff Member of the Year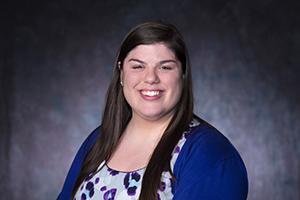 Nicole Cusick, academic program assistant, has been named American University School of Communication (AU SOC) staff member of the year. Cusick has been a valuable asset to SOC since her time as an undergraduate student. She completed her degree in journalism and theater arts in 2014.
Cusick has a passion for theater and she combined the two majors planning to be a theater writer or critic.
During her junior and senior years, Cusick was the coordinator of the SOC Ambassadors, which meant that she was in charge of the recruiting events, and working with advisors and the director of recruitment and retention. She loves people-focused work and when a position opened at SOC she was intrigued because it allowed her to work with a great team of people daily and still do theater projects on the side.
As the Academic Program Assistant for the journalism and film divisions, she builds the schedule of classes and hires all of the adjunct professors to help supplement the full-time faculty. She also helps the divisions with their monthly meetings and events, programs, awards or screenings that they may have.
"To know that my work is helping the faculty create new programming or curricula to help students is very rewarding. Really, it's an award for the whole team that I work with. I will never have a better work team; they are very motiving and collaborative," said Cusick.
She says that her time as an SOC student has helped her at her job because many of the projects she was a part of were very team driven and research driven. She uses both a collaborative work style and research to collect data and facilitate the best schedule of classes for the students.
"Nicole Cusick consistently performs beyond the call of duty. Devoted to AU, incredibly conscientious, and assiduous in the pursuit of her goals as Academic Program Assistant, Nicole is responsive to her colleagues, professional in her demeanor, creative in solving problems, and constructive in her comments and feedback to her teammates," said Professor Chris Palmer, one of multiple community members who nominated Cusick for the award.