Communications
No Ocean Wide Enough to Keep Saudi Student from American University Commencement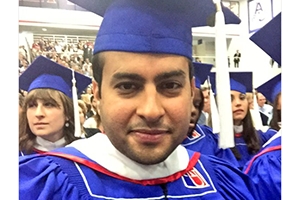 Saudi journalist Mohammed Alhassan Alemary would not let anything stand in the way of attending his American University commencement ceremony May 7. He flew all the way from Saudi Arabia - more than 6,500 miles - for a short, six-day visit so that he could walk across the stage in person to receive his master's degree in film and video.
Alemary had returned to the Kingdom of Saudi Arabia to complete his internship and capstone project. The capstone that has been planned at the School of Communication (SOC) and is the first of its kind as a media campaign in the Kingdom. He traveled approximately 3000 miles to produce the project.
His capstone is a social impact documentary to raise awareness about a top killer in the Kingdom, traffic accidents. Saudi Arabia has a tragic issue with road safety; indeed, auto accidents send about 20 persons every day to the graveyard, and 35 persons to wheelchairs or rehab. 
Alemary lives in Jeddah, on the coast of the Red Sea and the major urban center of western Saudi Arabia. He arrived in Washington, DC, just 20 hours before Commencement. The short trip to DC demonstrates his determination to walk across the stage in person at his graduation ceremony. His brothers and close friends also enjoyed his graduation ceremony at AU. Most of his family overseas followed the ceremony on AU live streaming, and his Twitter posts were shared both in Bender Arena and abroad.

Recently, Alemary was honored by the King of Saudi Arabia, Salman Bin Abdulaziz Al Saud, including, along with 17 other students who are in top 20 schools and programs around the US including Harvard, Yale, Princeton, Columbia, Brown, Georgetown, Johns Hopkins, and others.