Communications
Students Love American University's Online Degree in Strategic Communication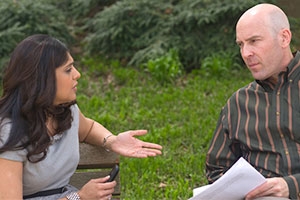 American University's Master's in Strategic Communication is one of the most popular programs in the School of Communication. It is also the most convenient as it is offered online, on campus full or part time, or as a weekend program for professionals. Students are often full-time professionals and/or out-of-state. US News & World Report also ranked American University among the Best National Universities in the 2016 edition of America's Best Colleges. The convenience, the faculty, and the tremendous communication and support from the admissions office has made AU's Strategic Communications program the path for many. 
Here are some testimonials from current online students:
Twenty two year old Alexis Rickford is a full time employee at the Export-Import Bank of the United States in the Communications Department.  "I was nervous that I was taking on too much between school and working full-time. I am not going to say it has been a walk in the park, but it has been great to be able to see first-hand how what I am learning in school is being applied in the field," she said. 
Pursuing her Master's degree in Strategic Communications while working has helped her with her job. "I was learning how to craft press releases and learn effective ways to reach out to the press, I began working with the Media team on researching and reaching out to journalists across the world for the Chairman of EXIM's upcoming trips. Many of the projects I work on at EXIM I have learned about in class, which has helped improve both my performance at school and at work," she added...Read More
Public relations expert Sarah from Westminster, MD said that the application process she experienced with American University "was very personalized." She added; "My admissions advisor and I corresponded on a weekly basis." 
"I'll never forget the moment I was accepted into the program.  My admissions advisor called me and she told me I was accepted into AU's School of Communication MA in Strategic Communication program, I jumped up and down. I thanked her tremendously for all of her support and then called my parents to tell them the news. It's one of those moments you remember," she said...Read More
Assistant Media Planner, Emily Walsh from Philadelphia is another candidate for the Master's program. 
"Not only was American's Strategic Communication program online, it also provided ten incredibly beneficial classes that fully interested me – from Public Relations to Social Media. For the first time since my college graduation, I had my "Ah Ha!" moment,"she said. 
Walsh witnessed a personal improvement. "The program has opened my eyes to a world of new possibilities and has unleashed an extremely motivated individual in myself that I never knew existed," she said.
"This program has pushed me to work harder, study longer, and always say yes to that extra shot of espresso," she added...Read More
Veteran of both the Army and the Navy, Jackson McGehee, is currently a Communications Strategist in Atlanta, Georgia and pursuing his MA program at AU.  "American University's Master of Arts in Strategic Communication is marketed as a program for fully employed professionals and that is one of the main reasons I chose to apply," he said.  
He added: "My professor was very candid about the requirements and expectations, but also about the willingness to accommodate hard-working students."
McGhee found the course "both challenging and enriching" and has been able to immediately incorporate lessons from each class to his tasks and projects at work. 
"I felt like I was on top of a mountain looking back at my starting point. I worked hard to create the plan, but guidance from my teacher was incredibly valuable. My professor was accessible all the time," he said...Read More
Michael Kaye, a public relations professional working in New York City, finds that through the program he was able to hone some of his skills. " My writing has improved tremendously after the strategic writing course I took this past semester, and I have been able to contribute to high-level brainstorms thanks to the strategic communication course," he said. 
"This program is preparing me for my career goals, and helping me climb the corporate ladder more efficiently than I would have been able to beforehand," he added...Read More