Communications
POLITICO Fellow Shares Her Experience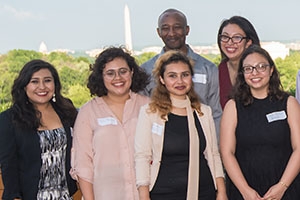 American University journalism student Ambar Pardilla just recently completed the POLITICO Journalism Institute program, which aims to increase and support diversity in Washington newsrooms. The fellowship is an intensive program for students interested in covering stories on government and politics. We reached out to Ambar to see how her experience as a POLITICO fellow was and what advice she would give to other students who are interested in applying for the POLITICO Fellowship.


What was your initial reaction when you found out you were given the POLITICO Fellowship?
I have to admit that I was completely shocked to have been accepted into the program because I knew that a lot of really accomplished people with much more experience than me had applied. I had to read the congratulatory email a couple of times to believe it.
What expectations did you have for the fellowship? Were they met?
I came into the fellowship with an open mind, expecting to enhance my ability to tell stories and adapt and adopt to POLITICO's style of political reporting. I did learn those two things, but I was most surprised about how well the group of us got along. I made some great friends whom I respect and admire. There wasn't a competitive spirit amongst us. Every one of us offered up our talents or tips to help each other out.
How did the fellowship challenge you as a journalist?
There was a period of three days-Monday, Tuesday and Wednesday-that were so stressful because we were all reporting and researching our stories before the noon deadline on Thursday. I couldn't have survived the sleepless nights without caffeine. I was definitely pushed to become a sort of semi-specialist on the topic I chose by studying all that I could and talking to experts. Coming up with and crafting a story is always challenging but I, and everyone, felt the pressure to produce something that was really worthy of POLITICO.
Which part of the fellowship do you think was most valuable to your learning?
Being in a room with eleven eager and exceptional student reporters really opened my eyes, especially as we had conversations about our personal and professional experiences. The program is designed and dedicated to diversifying newsrooms and, as a woman of color, it was important to see such diversity within the group. I had interesting talks with other participants and people who worked at POLITICO about what it was like to be a minority in a newsroom. I definitely got a sense of how our experiences as minorities can shape and even better our reporting.
What advice would you give someone who is interested in the POLITICO Fellowship?
For anyone that is considering applying to the fellowship, there's three things to do: try to get some great clips to send in to show off your skills, take time on the application's writing assessment, and spell-check everything. These details really make a difference when someone's going through dozens and dozens of applications. If you're serious about political reporting, just apply and see what happens!