Communications
Recruiters from Top PR Firms Share Tips with Students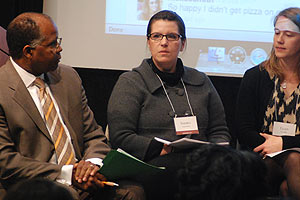 The six recruiters from leading public relations firms started with the good news: We're hiring. 
"We're have more openings now than we did all of last year," said Brian Batchelder of Fleishman-Hillard. "You are lucky to be graduating now rather than two years ago," said Andrea Maurey of Ketchum. "There are jobs!" said Jessica Lee of APCO Worldwide. But then the reality check: The competition for those jobs is fierce.  
"The level of competition for jobs is surprising," said Lee. "It's tough out there."  
"We had 12,000 applicants for a couple hundred internships last year," Batchelder said.  
So to give Public Communications students at AU's School of Communication an edge on that competition, the recruiters came to campus to offer tips and advice to graduating seniors and graduate students. The panel was part of SOC Week.  
Here are a few of their admonitions: 
Grammatical and spelling errors in a resume or cover letter are a deal breaker. "I worry you wouldn't represent the company well to our clients if you can't spell," said Ellen Birek of Ogilvy Public Relations. "You must be detail oriented."
One-size resumes don't fit all job openings. "Tailor your resume to the job," Batchelder said. "Read the job description and incorporate those words into the cover letter," Birek said.
Research the company before the interview and come prepared. "It is so easy to find information about a company, its clients, the people conducting the interview," said Batchelder. "Ask who you will be meeting with and Google them. Find something in common with them and prepare your talking points," said Maurey.
Bring your own questions to the interview. "I start all interviews asking if the person being interviewed has any questions," said Lonnie Taylor of Diversified Search Odgers Berndtson. "This way I can make sure everything they want to know is covered and I can see how they can pivot in a new direction." Batchelder said having questions "shows you care."
Show up early to the interview. Being late is a deal breaker the panel agreed and being early, "that's a blessing," said Taylor. He said some interviews end early and if the next interview is there and ready to go, "that's impressive."
Clean up your online image. "I don't want to see those inappropriate pictures of you on Facebook that you don't want your parents to see," said Lee. "I want to see you engaged in the issues, part of social media. But don't be a robot, I like to see some personality as well," she said. "I'll Google you because our clients will Google you," said Birek.
Once you get the offer, don't negotiate. "No negotiating on an entry-level job," Lee said. "Once you are here a while and show what your are worth, then you'll have room to negotiate."
The event was put together by Public Communication Professor Pallavi Kumar and co-sponsored by the SOC Undergrad Council, the AU Career Center and the AU chapter of the Public Relations Student Society of America.