Communications
The Next Olivia Pope? PR Student Rikki Kyle Changing Representation in the Industry One Step at a Time
In October, the Public Relations Society of America (PRSA) Foundation held their annual conference in San Diego, Calif. where PRSA chapters across the country met, and participated in panel discussions and speaking events. While there, Public Relations and Strategic Communication student Rikki Kyle became the recipient of the organization's Ofield Dukes Multicultural Student Award. This award recognizes a student who values and practices ethical public relations. The honor is named after public relations executive, Ofield Dukes, who founded one of the first Black-owned PR firms, which represented civil rights figures. 
"I did research on Ofield Dukes to try to really get a grasp of who he was," Kyle said. "I found out that he was an adjunct professor at AU in SOC, and was a pioneer for Black professionals in public relations. So I was really happy and very honored to receive the award." 
The junior currently serves as the Director of Diversity and Inclusion for AU's Public Relations Student Society of America (PRSSA) chapter. Her role includes making sure the organization is accessible to everyone on campus, and planning visits to high schools to inform students on the importance of having good communication skills.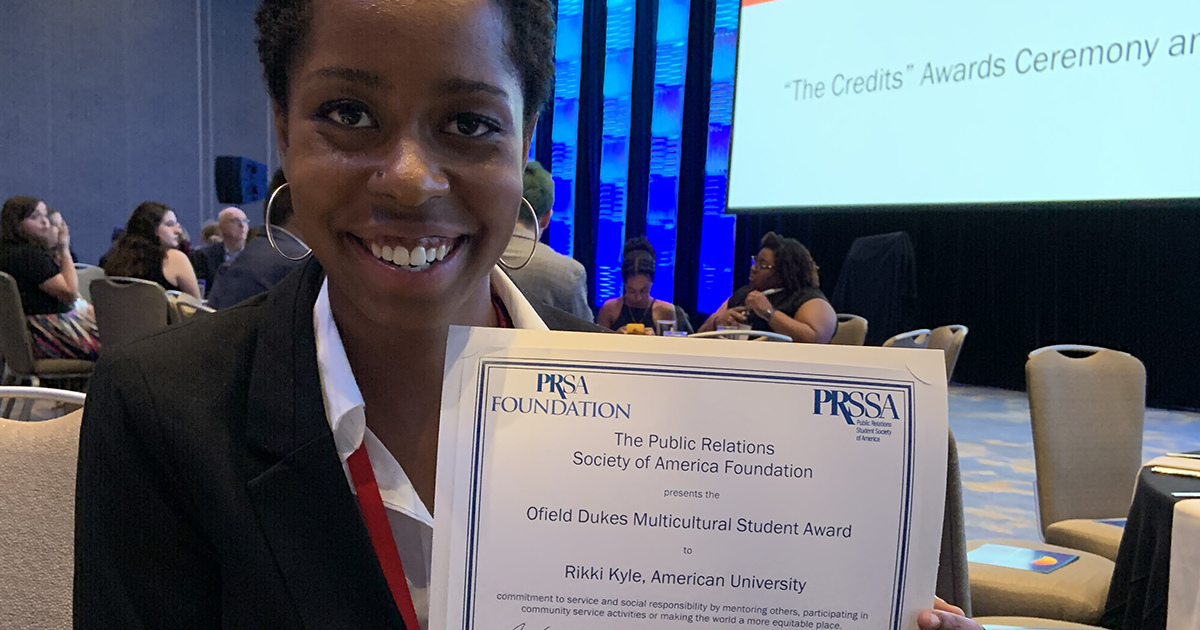 The award includes a $1,000 grant to fund the recipient's educational pursuits.
Believe it or not, public relations wasn't Kyle's first choice of a career path when she arrived at AU. She quickly changed course and was inspired by the lead character in the TV drama "Scandal." Olivia Pope, played by Kerry Washington, is a character known to tackle crisis communication and fix other's reputations. Kyle recalled the other part of her inspiration came from wanting to help people who often are portrayed in a negative light. 
"As an African-American woman, having a say in how people are represented and portrayed in the media, along with overall perceptions [of the community] is something that's very important to me," she said.
The budding "fixer" joined the AU chapter of PRSSA after attending a student fair, visiting a chapter meeting, and learning about the many opportunities the organization had to offer. This year, the chapter was awarded "star" status by its parent organization for its commitment to excellence and helping students build better communication skills through interactive programs. Kyle applied for and was appointed Director of Diversity and Inclusion last year. 
But her involvement in public relations doesn't stop there. She is also a corporate communications intern at an educational technology company called EverFi. Expected to graduate in 2021, Kyle says it's hard to narrow down her career goals because the opportunities are endless. 
"Currently, I'm really interested in the entertainment industry," she said. "Doing corporate communications for a huge media conglomerate like BET would be a great thing that I would love to do." The diversity and inclusion advocate continues to strive beyond what is expected of her, and is currently thinking of pursuing a master's degree as she continues her professional journey. 
Kyle continues to lead by example with the hopes of inspiring others to follow their passion.