Communications
Professor Celebrates 30 Years at "Treasure Trove" SOC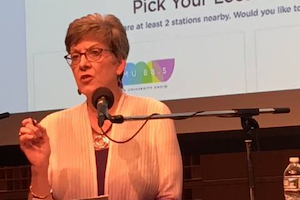 A lot can change in 30 years.
For School of Communication (SOC) associate professor Jill Olmsted, one of those changes has been especially rewarding. While at SOC, Olmsted — one of the first women tenured in the Journalism division — saw a rise in women recognized by the school.
"We used to be on one floor of Mary Graydon and for a time there wasn't even a women's restroom there because academia had been dominated by males," Olmsted said of the building.
Olmsted began at AU after spending most of her journalism career in her native Midwest covering community issues such as farmers fighting high-voltage power lines, school closings, profiling first responders and anchoring newscasts at the U.S. Open and PGA Golf tournaments. In Washington, D.C., Olmsted covered the White House, federal agencies and Congress for Tribune Media and other outlets.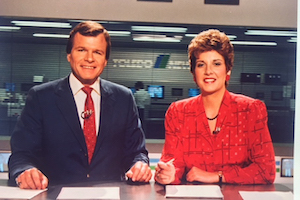 As someone who came from a family of teachers, Olmsted came to AU as a graduate student interested in teaching once her journalism career ended. She became a teaching assistant and created a portfolio of work guided by faculty with real-world professional experience as Washington journalists.
"The nation's capital was also a lure because it's where public policy is created and makes a difference in society," Olmsted said. "When I decided to go into academia I knew that Washington, D.C., was the place to be and AU felt like a great professional home."
Over the course of her time at SOC, Olmsted has specialized in teaching the skills she developed during her illustrious reporting career to a new generation of reporters by teaching classes in video, audio and online reporting. She has also used her experience reporting on Capitol Hill and the U.S. Supreme Court to help her students in the Reporting for Public Affairs course, a course that allows students to cover congressional hearings.
She teaches a digital audio course which has grown over the years into online storytelling and podcasting, and video courses like Backpack Video Journalism — a course she created when she came to SOC. She also teaches on-air performance skills in an online course she created called Voice and Presentation Skills.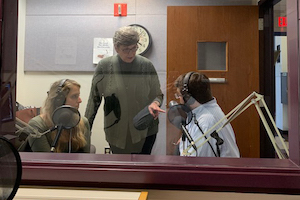 "SOC and AU is a treasure-trove of top-notch media professionals who have practiced what they now preach as instructors and continue to grow," Olmsted said. "There is a healthy mix of cutting-edge courses and traditional academic scholarship that challenge and energize our highly-motivated students. And I love living in a city with world-class intellect, the arts and great diversity in every way."
Olmsted said the most rewarding part of her AU career has been seeing the success of her former students using the skills she taught them.
"Without a doubt the biggest reward is watching my former students become accomplished professionals in media as well as other professions," Olmsted said. "I also get great joy from looking at my Facebook feed and seeing weddings, babies, promotions and adventures of former students."