Achievements
Finding Inspiration among the Mines in Laos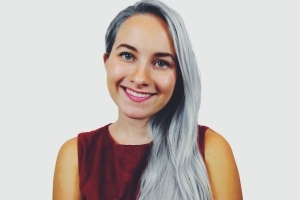 For the past year, Erin McGoff interviewed the people of Laos and explored the longstanding complications from the United States' nine year covert war in the country, which gave Laos the tragic distinction of being the most bombed country in the history of warfare. She was able to travel to Laos to do filming for this project thanks in part to landing the 2017 AU Pulitzer Crisis Center Campus Consortium International Reporting Student Fellowship, as well as a lot of hard work, talent and passion.
It was not where she had thought she'd end up after graduating from the Film & Media Arts BA program at American University School of Communication (AU SOC). Throughout her undergraduate career, she thought that she was going to end up working in television.
"I even interned for Discovery Channel and Animal Planet. I wanted to work for NBC, Netflix, or HBO," she said. "But when I started working on my documentary about Laos, This Little Land of Mines , I realized my true passion was in documentary filmmaking and the ever-growing field of cinematic video journalism."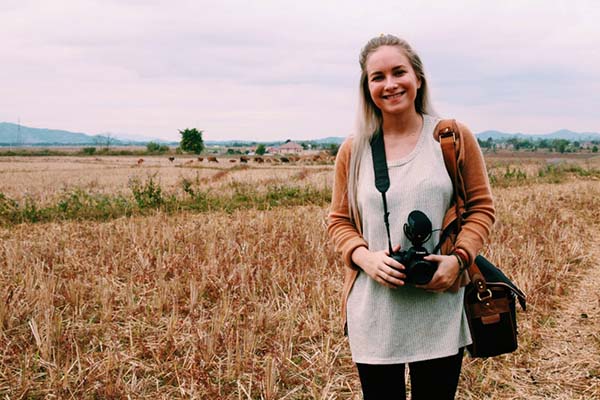 Her documentary on Laos is now in post-production. Through her fellowship, she was able to partially fund her project, get support and resources for her work and make lasting connections.
"Getting the Pulitzer Center Fellowship was a total turning point for me in my career," McGoff said. "The coordinator, Kem Sawyer, was so supportive. She and her husband, the director of the center, had all the fellows over to their house one night and we talked about the industry, our experiences reporting internationally, and our mediums."
"It gave me validation that I wasn't an imposter in the video journalism field," she said.
McGoff currently works as a freelance field producer, social and digital marketer and video journalist. She is also raising funds to complete This Little Land of Mines and hopes to release it in late 2018/early 2019. She is also in post-production for another short documentary she produced, Southern Sustainability.
"I look forward to a career of cinematic video journalism where I can spread stories that inspire and engage people," she said.
The AU SOC Pulitzer Center fellowship program will be accepting applications soon. Fellows will be awarded $2,500 to help pay for their reporting project. Pulitzer Center staff and journalists act as mentors for students throughout the fellowship, and final projects will be featured on the Pulitzer Center website. Fellows also work with the Pulitzer Center in efforts to further disseminate the work through media partners. The deadline for 2018 applications is March 31.
The fellowships, open to AU SOC students, are one of the benefits of SOC's membership in the Pulitzer Center on Crisis Reporting Campus Consortium. The Campus Consortium initiative is a core component of the Pulitzer Center's effort to create awareness campaigns around the global systemic issues that affect us all.