Communications
Pulitzer Fellows Head to Chile and Laos for Media Projects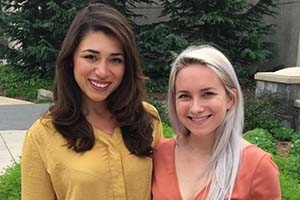 American University (AU) graduate journalism student Natalie Hutchison and film major Erin McGoff (SOC/BA '17) have been named 2017 recipients of the AU Pulitzer Center Campus Consortium International Reporting Student Fellowship. Hutchison's reporting will examine environmental turmoil in Chile. McGoff's work will explore the longstanding complications resulting from America's nine year covert war in Laos, which has largely been kept off the public's radar for decades.
The students were chosen based on a project proposal involving an underreported systemic issue. Each student fellow will be awarded $2,500 to help pay for their reporting project. Pulitzer Center staff and journalists act as mentors for students throughout the fellowship, and final projects will be featured on the Pulitzer Center website. Fellows also work with the Pulitzer Center in efforts to further disseminate the work through media partners.
The fellowships, open to all AU students, are one of the benefits of SOC's membership in the Pulitzer Center on Crisis Reporting Campus Consortium. The Campus Consortium initiative is a core component of the Pulitzer Center's effort to create awareness campaigns around the global systemic issues that affect us all. Applications for the 2018 fellowship are due on March 31—apply now.
AU's Center for Latin American and Latino Studies (CLAS) is a contributing partner to this initiative and its Luce Foundation-funded work on religion and Latin American affairs will be supported by Hutchison's work in Chile.
2016 Fellows Kent Wagner (MFA '18) and Camila DeChalus (SOC '16) completed compelling work in Borneo and Colombia, and 2015 fellow Julia Boccagno will be speaking at Pulitzer's Gender Lens conference on her work on the marginalization of the transgender community in Thailand.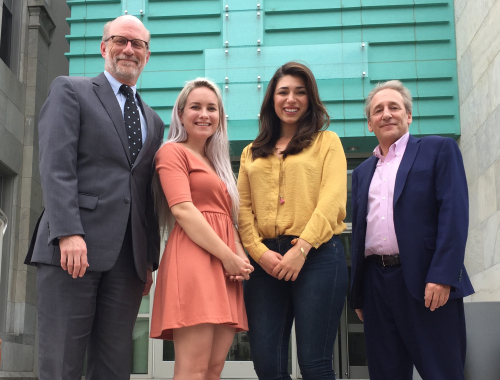 Meet the Fellows:
Natalie Hutchison is a graduate student in Journalism and Public Affairs at AU, with a focus on international affairs.
She recently spent time working at Discovery and TLC channel. Natalie's keen awareness and work in her backpack documentary course prepared her to be in different environments and cultures unlike her own. Her project is the intersection of climate change and religion. In Chile, the natives are witnessing the changes first hand and it is having an impact on their traditions, economy and daily life. See her work.
Erin McGoff is a filmmaker and producer concentrating on forgotten history.
She has spent time studying at Drexel University and Edinburgh University in Scotland before coming to American University. She holds a BA in Film and Media Arts from AU. Erin is currently working on This Little Land of Mines, a documentary that focuses on post-war issues particularly in Laos, where she has traveled. This encounter ultimately ignited the idea for her documentary about the country, which has been bombed more than any other due to a covert, nine year war wages by the U.S. She hopes to debut the full-length film, This Little Land of Mines, early in 2018. See her work.