Alumni
Former AU Journalism Fellow Moves Up at the Post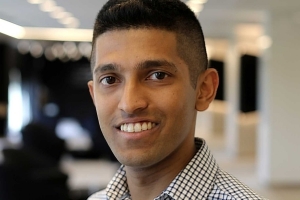 Fenit Nirappil, (SOC/MA' 16), is a new D.C. City Hall reporter for The Washington Post, where he has covered local politics since 2015.
As the AU School of Communication (SOC) Washington Post fellow, he worked with the Post's local politics team covering government accountability, campaigns and other issues in D.C., Maryland and Virginia. At AU, Nirappil specialized in investigative journalism, which emphasizes solid, accurate reporting and a strong foundation in media law and ethics. After graduation, he became the fifth SOC graduate fellow in a row to join the Post Local desk.
SOC writer Savitree Jeamkijrung talked to Nirappil about his experience at the Post, and in AU's MA Journalism and Public Affairs Program.
SJ: How do you describe yourself as a journalist?
FN: As a journalist, I'm passionate about old-school watchdog reporting and holding institutions accountable for mistreatment of vulnerable people. I'm also a firm believer that journalists must ensure their work draws as many people as possible, and that includes focusing on social media, search engine optimization and reader engagement to build a loyal audience.
SJ: What is the most interesting thing about working at The Washington Post?
FN: The Washington Post is one of the most exciting newsrooms to work in because we invest in quality journalism, we experiment in new methods for storytelling and we hold ourselves to high standards. As our executive editor Marty Baron says, we are at work, not at war, even in a turbulent time for media.
SJ: What brought you to AU SOC?
FN: I came to AU SOC specifically for the Washington Post fellowship after spending several years reporting on the West Coast. The fellowship gave me an opportunity to spend my days working on the Post's local politics team, while taking graduate level journalism classes at night and on weekends. That allowed me to further my education without breaking my professional momentum.
SJ: How was your professional life impacted by AU SOC?
FN: I was hired full-time by The Washington Post after finishing my fellowship program with American University. I was the fifth AU SOC annual graduate fellow in a row to join the Post Local desk.
SJ: What are some classes you found interesting during studying at AU SOC?
FN: My favorite classes at AU SOC were data reporting and long-form storytelling. I also enjoyed a course on legal issues relating to journalism, and I still find myself consulting my final research project on the reach of Freedom of Information laws to public officials' private devices.
SJ: What are two skills or lessons you learned at SOC that you use now?
FN: The data skills I picked up at AU SOC has helped me quickly unearth nuggets from campaign finance reports in Maryland and Virginia, while also allowed me to create a database that identified law enforcement officials and well-connected campaign donors trying to break into Maryland's legal marijuana market.