Communications
Rep. Steve Cohen Talks Trump, Impeachment, AOC and the 2020 Election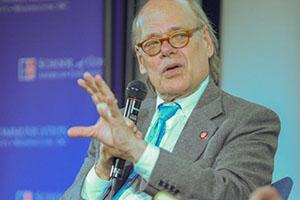 US Rep. Steve Cohen, (D-TN), engaged in a lively discussion with AU students that ranged from immigration to impeachment, moderated by Professor Jane Hall, director of American University School of Communication's American Forum.
The live event was recorded for distribution on the new American Forum Café podcast. Graduate and undergraduate journalism and political communication students asked Cohen questions on important issues facing Congress and the country—issues on which he is playing a prominent role. Cohen is best known for introducing articles of impeachment against Donald Trump last year, before the Democrats gained a majority in the US House of Representatives. American Forum produced the event, which was co-sponsored by American University Kennedy Political Union (AU KPU).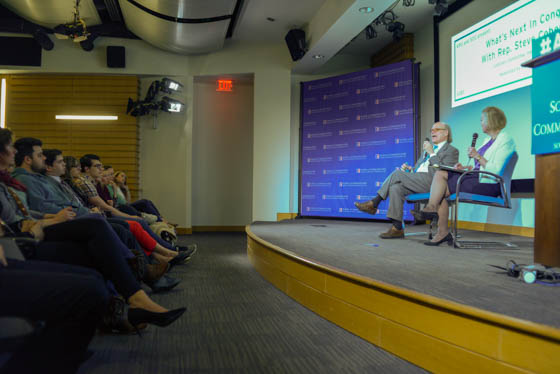 Hall asked Cohen about impeachment and the Mueller report—and he revealed the Democrats' strategy on impeachment and his own feelings about it. Cohen also is leading new Congressional hearings and legislation on gun control, climate change, and immigration, including the controversial funding of "The Wall" along the Texas-Mexico border. Students asked him about all of these topics as well as the 2020 presidential election. There was debate around whether Congress can be bipartisan today and Cohen's views on AOC, Rep. Alexandria Ocasio-Cortez (D-NY), and the new freshman class in Congress. At the end of the program, Cohen turned to the personal, and spoke movingly to students about what it meant to him to be Southern and Jewish in the home of the civil-rights movement.
The American Forum Café podcast continues the tradition of the long-running American Forum series of video, online and radio events that host and executive producer Hall has moderated since 2001. The discussion with Cohen is the first in a planned series of American Forum-based podcasts that will bring students across AU together to engage in a more intimate, casual setting with prominent and interesting players in politics and the media. In November 2018, an American Forum event around the topic of young people and the midterm elections aired on WAMU 88.5, the local NPR affiliate.