Communications
After 40 Years, Professor Still Sees Same Great Qualities in SOC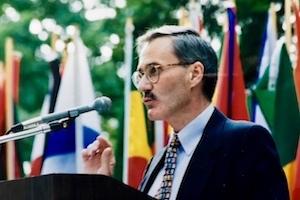 While much has changed in the School of Communication (SOC) over the last 40 years, SOC professor Rodger Streitmatter says the school still has the same distinctive traits that drew him to AU.
"We still pride ourselves on preparing communication professionals," Streitmatter said. "And we also still value high quality teaching, which means that every professor on our faculty is expected to succeed in the classroom." Streitmatter was recently honored for his 40 years of service at American University.
Streitmatter joined SOC after working as a reporter for the Roanoke Times in Virginia and winning several awards from the Associated Press and the Virginia Press Association. During his first several years on the faculty, he taught journalism production courses. He routinely taught Reporting for Public Affairs for graduate students and Reporting for undergraduates. He also created and taught the "Boot Camp" course for incoming graduate students.
After a few years, Streitmatter began creating and teaching media studies, including one called How the News Media Shaped History, which looked at specific events in American history and how they were shaped by journalism, such as Thomas Paine laying the groundwork for the American Revolution and the role TV coverage played in the Civil Rights Movement.
More recently, he's been teaching a course titled Race, Gender & Sexuality in the Media that he designed.
"I'm particularly proud of the course because, when I created it, I put my own spin on it," Streitmatter said. "Many universities have courses that focus on media representation of race, gender and class. But it's rare to have one that also looks at sexuality with any degree of depth."
In the early 1990s, Streitmatter realized he needed a challenge, so he began writing a book. He said he had previously shied away from long-form works.
"The idea of doing such a thing had always intimidated me," he said. "Then I rethought the process and saw that a certain kind of book consists of a series of free-standing chapters that are tied together with an introduction and a conclusion. So I wrote eleven essays about individual black women journalists, from the 1800s through contemporary times. And then I published what became the very first history of African American women journalists."
Streitmatter's first book, the history of African American women journalists, was published in 1994. He's now written 10 books.
In the early '90s, Streitmatter also applied to be a Fulbright Scholar. For his first Fulbright, he taught journalism at Moscow State University, and for his second one, he taught at Shanghai International Studies University. He said the experiences were life changing.
Today, SOC's Rodger Streitmatter Awards are named for Streitmatter and were started by his husband, Tom Grooms. The Rodger Streitmatter Award for Excellence is given annually to an outstanding senior majoring in journalism, and the Streitmatter Journalism Prizes are awarded to students across multiple categories and platforms, like best radio story or best multimedia story.
When Streitmatter looks at SOC today, he finds that the school still prides itself on developing effective communicators and quality teaching — two of the qualities that drew him to AU.
"I'm very pleased that I can say that," he said. "It reassures me that I picked the right university when I came here 40 years ago."