Communications
Scott Talan Travels the World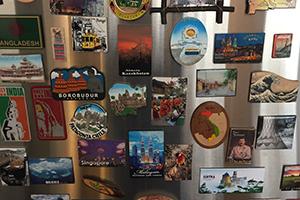 Not many people can honestly say that they have traveled the world, but Scott Talan, a strategic communication professor at American University School of Communication (AU SOC), can. Talan has visited 107 countries and has been to every continent except for Antarctica. He began his journey after graduate school, when he found a bargain through Cathay Pacific Airlines, he traveled to 21 countries in Asia. He fell in love with travel, and he went back and did the trip again later that year.
"I have been traveling alone for the past few years, which means that every decision is mine – for good or ill", says Talan. But, he has learned that the more you travel the easier and more comfortable you get.
Video by Trent Burns*
He made it his goal to become a member of the Traveler's Century Club, which is an exclusive club for people who have visited 100 or more countries, and he achieved it on a 2017 visit to Malta. Many of his trips involve him hopping from country to country after spending only a few days. He says he has loved being able to see so many places, but that in the future he wants to stay in one place longer and really get to know the country.
Traveling is an important part of Talan's life because he gets to learn about other people, places, and cultures. He also gets to learn about himself. He has met some incredible people and has visited amazing places and has immersed himself in different cultures and expanded his understanding of the world.
As a professor at SOC, he has many students who graduate and then spread out all over the world. He stays in touch with as many as he can to stay up to date on his student's lives, their careers and their accomplishments, and tries to visit them during his travels. One of his former students, Brolley Genster, is currently living in South Korea. When Talan visited Genster, he saw places that he didn't think he would ever visit.
Although Talan has been traveling internationally for years, he still makes some mistakes. When he was in Azerbaijan he wanted to see "Solo: A Star Wars Movie." The movie theater had one showing at 4:55. Talan and his travel buddy assumed it was at 4:55 in the afternoon, but Azerbaijan uses a 24-hour clock, which meant that the movie was showing at 4:55 a.m. His built in assumption that no theater would screen a film so early was his downfall, and it reminded him that practices from America don't always translate to other countries.
Talan normally travels for pleasure, but on a recent trip in Albania he took part in a weeklong investigative reporting workshop. Of course, he also visited ten more countries just for fun in the same trip. Talan has also taught classes on branding, messaging, and advertising at a university in southern China.
Over the years he has immersed himself in many different cultures and has gone outside of his comfort zone. He has eaten many interesting foods that are not as common in America. For example, he ate guinea pig in Peru, octopus testicles in Osaka, and a camel burger with gold flakes in Abu Dhabi. He tracks his travels and his experiences by getting magnets from every place he visits. His next goal is to visit more countries in Eastern and Central Africa as well as visit some islands in the Caribbean.
*Trent Burns is a Washington, D.C. based creative professional and graduate of American University's School of Communication, where he studied PR/Strategic Communications and Film & Media Arts.