Communications
Annual News Games Features New Host, Prizes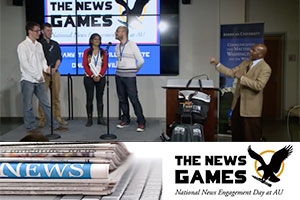 The annual News Games competition will be held on October 4th from 5:30-7 pm in the Media Innovation Lab at American University's McKinley Building to celebrate National News Engagement Day.
Coordinated by the Association for Education in Journalism & Mass Communication, the News Engagement Day is a nationwide network of events introduced in an effort to highlight the importance of staying engaged with current affairs. According to a review in 2009, only one-third of people read the newspaper online or in print on a daily basis.  American University School of Communicaton is one of dozens of schools and news organizations that are participating. 
Hosted by Derek McGinty, AU alumnus & anchorman, this year's competition will award $500 in prize money to the winners. A "healthy competition" as the Dean of the School of Communication Jeff Rutenbeck describes it, the News Games is modeled on the famous movie and book series 'The Hunger Games.' But in the News Games, even those who lose have fun, and walk away safely.  
Teams are self-selected, and each is made up of two AU students. Team members can come from any AU academic discipline, and can represent clubs, AU schools & colleges, athletic teams, dormitories, programs, a shared hometown, etc. The winners will be selected through a live quiz show program streamed to screens across campus.
Register now!