Television & Film
TA Finds Calling in Documentary Filmmaking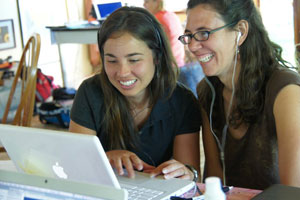 Charlene Shovic remembers attending AU's Public Anthropology annual conference in October 2008 and listening to FMA professor and anthropologist Nina Shapiro-Perl speak about digital storytelling as a tool for activism and getting goose bumps watching the examples of the digital stories they showed. She was hooked.
The MA Public Anthropology graduate student ended up enrolling in the program, taking Shapiro-Perl's class and becoming her TA. Recently Shovic and Shapiro-Perl attended The Facilitator's Intensive Training (FIT) workshop with the Center for Digital Storytelling (CDS) (www.storycenter.org) on facilitating group documentary storytelling, held at the Stonebridge Farm in Colorado. 
Shovic says the training was incredible. "Eight of us participated, and we worked in an old, converted storage warehouse, right beside a creek and fields of corn and raspberries," she said. "The setting was perfect to help clear our minds as the group of us started with a two-day facilitator training and then put our training in to action with a three-day standard workshop that we hosted." 
They discussed techniques for story structuring, and the balance between guiding individuals to best illuminate their stories while ensuring the story remains in their hands. 
"That is one of the most incredible aspects of digital storytelling – the power of self-authorship," said Shovic. "There is a magic that happens, from the beginning of the sharing of stories, to the screening of the final pieces on day three. It was an honor to be a part of." 
The Documentary Storytelling class is the reason Shovic is at American University, she said. "After taking the class, I am more convinced than ever that there is a way to use the power of the story as a tool in to humanize "the other.'" 
Shovic says the class allowed her the space, training, and the opportunity to do just that in her project. 
Shapiro-Perl says Charlene is a "natural." "Her sensitivity to people, her warmth and enthusiasm, her quick grasp of technology (she taught herself Final Cut Pro), her capacity for visualization, and her instinct for the essence of a story," she said. "She has all the components I look for in a collaborator." 
And how about being Shapiro-Perl's TA? Shovic says there's never a dull moment. "Nina is such a dynamic professor, academic, producer, and individual," she said. "She is real with her students, and is real with me – I appreciate this quality, and I know her students do as well." 
Shovic says Shapiro-Perl loves to teach, listen, and deeply believes in the power of storytelling. "And we always have some laughs," she said.