Communications
SOC Alumni Mentorship Program Sparks Connection That Empowers Both Mentor and Mentee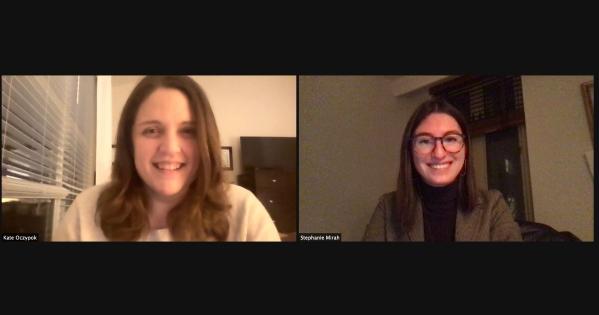 Having a powerful support system can positively influence your academic and personal journey. Understanding this, in its nineteenth year, AUSOC's Alumni Mentorship program has bridged the gap between the classroom and the professional world as students prepare for their future careers. Mentors provide expertise and advice to SOC students, encouraging their success in the communication field. Every year, through a partnership between the School of Communication and the AU Career Center, dozens of undergraduate and graduate students are paired with alumni who are thriving in their fields and can support them while navigating their career path. 
SOC alumna, Kate Oczypok, and current student Stephanie Mirah were paired together as part of the Alumni Mentorship Program. Oczypok earned her B.A. in Journalism from SOC, while Mirah is currently pursuing her studies in Journalism. As a student, Mirah joined the mentorship program to connect with the extensive network of SOC alumni who are doing fantastic things in various communication fields. And Oczypok's decision to become a mentor was inspired by her passion for giving back to the AU community. 
As women in journalism, Mirah and Oczypok were able to find common value in empowering and supporting each other. Mirah voiced that having a mentor like Oczypok has been inspiring. "Seeing all that she's accomplished in her freelance work, her photography, and her time as a piano teacher has really reinvigorated me and reminded me that women are just as great reporters as our male counterparts, and in what we do," she said.
Students in the mentorship program gain the opportunity to build a relationship with a mentor, gather feedback on their work, receive career advice, improve their resume, and more. Since its beginning in 2002, the program has successfully paired over 300 alumni mentors with students. "This program has taught me to not shy away from classes, to be proud of the work that I produce and continue to produce that work regardless of the naysayers I may have in my head," Mirah said. 
Alumni mentors are able to provide support for students, in ways such as, helping to formulate their short and long-term goals, and assisting students with networking their way through the communication field for internships and job opportunities. As a mentor, Oczypok highlighted how valuable it was to be able to see Mirah grow during the semester. She was able to assist her in building her confidence to begin pitching to media outlets and succeeding in her classes. The two were also able to share their love for SOC professors, like Jane Hall. 
One thing the two agreed upon is the value of being multifaceted in your interests and skills, which they both credit to SOC for allowing them to cultivate. Oczypok mentioned how thankful she was to minor outside of SOC in order to build skills that she uses today, like marketing. "This prepared me to know I can survive as a piano teacher, photographer, and writer." Mirah points out that in her current experience at SOC, students are encouraged to learn how to use a camera and learn about videography because of the emphasis on being a well-rounded journalist. 
The SOC Alumni Mentorship program has aided in the professional and personal connection of alumni and current students. Oczypok and Mirah's connection with one another has encouraged their growth during this unprecedented time. More importantly, they have been able to learn from each other as women and find connections between what they value the most. The pairing's advice for women feeling uncertain or in need of guidance is, "Don't be afraid to take initiative," as well as, "Be willing to be that sideline cheerleader for people." While both journalists agree on their shared experience, this is the most important sentiment they see eye-to-eye on: Supporting women in journalism by admiring their work, and connecting with one another goes a long way.