Communications
Students Partner with Local and National Outlets for Election Day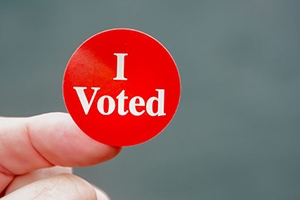 It's an exciting time for journalism students to be at American University (AU). With Election Day finally here, AU School of Communication students are fanning out across the DC Metro region to conduct exit polling, cover election events, and talk to voters on both sides of the aisle. Small teams will be reporting for WTOP, The Washington Post, USA Today and the NBC4 website All the stories will be posted on BeltwayNews.org.
AU gives its students hands-on training to set them apart from the competition when they apply for jobs.
COMM 621 - Online News Production class instructed by Jeremiah Patterson and Andrew Lih, has been preparing and planning for over a month to make sure all the students get the full experience. 
Students are going to be sent out to polling stations in Washington, DC, Northern Virginia, Maryland as well as the White House. They'll each conduct interviews with voters and will be submitting their stories according to their assigned deadlines to be collected and posted on BeltwayNews.org. 
To keep things smooth - they will be submitting their video files and articles to Trello, a website that allows one to organize projects. The class will be divided in four shifts throughout the day; where students will divide responsibilities. When some will be out reporting from outside, others will stay in the AU Media Innovation Lab, editing and publishing the stories as they come in.