Communications
Pam Kaufman Advises Communication Grads, "Be Your Own Champion"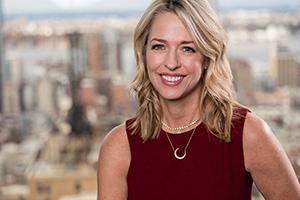 On May 11, American University School of Communication (AU SOC) graduates crossed the stage to receive their diplomas and head into the next chapter of their lives. They were joined by family and friends, faculty and staff, and distinguished guests, as they commemorated achievements and considered the road ahead. The ceremony was part of AU's 137th Commencement.
Featured speaker Pam Kaufman, SOC alumna and president of Viacom Nickelodeon Consumer Products, received an honorary Doctor of Humane Letters and spoke about the winding road she traveled to her current position, leading worldwide licensing and merchandising for the multibillion-dollar consumer products businesses Viacom Media Networks and Paramount Pictures. She is also a committed advocate for gender equality and diversity and inclusion, sitting on the board of Bottomless Closet, a not-for-profit that prepares women for workplace success, and of the Pace Women's Justice Center.
In her speech, Kaufman reminisced about her time at AU, living in Hughes Hall and interning at NBC. She said she graduated with the intention of a career in TV news, but struggled to gain a foothold in the industry. She found herself in unexpected places, challenged more than once by the question of whether to take a challenging new position or stay at a comfortable old one. All these experiences taught her powerful lessons, and introduced her to many different people. "A career in communications never follows a straight path," Kaufman said. She encouraged grads to follow her example in staying connected with everyone they meet in their career journey, and to be their own biggest advocate.


Alumnus Adam Goodman also receive an honorary Doctor of Humane Letters. Goodman is the founder and CEO of DICHOTOMY MicroStudios. Prior to establishing DICHOTOMY, Goodman ran the film divisions for both DreamWorks Studios and Paramount Pictures for 11 years, most recently serving as President of Paramount's Film Group, a position he held since 2009.
The graduate student speaker was Grace Ibrahim (Film and Media Arts, MA). Ibrahim told how she came to receive two degrees from SOC, first a BA and now a MA in film. Ibrahim, who hails from the Middle East, detailed the nightmarish story of learning her work visa had been denied in 2011, on the eve of starting a new position in the States. "Two months after I graduated college, I learned a valuable life lesson: things don't always go the way you planned. It sounds simple, but it's quite effective," Ibrahim said. Her love of telling stories through film led her back to AU. She concluded by telling grads that "what may seem like the end can often surprise you and pave the way for new beginnings."
Undergraduate speaker Jozette Akusika Allah-Mensah (Journalism, BA), spoke about finding her voice amid experiences both challenging and enriching. She described learning about the value of stories in classes like Backpack Video Journalism, where she had to seek out a new story in the DC area every other week. These led her to discover sides of her community she hadn't been exposed to before. "American is a 'come and see' university, where at the core of our education lies genuine community and experiences that equip us to be the best we can be, in any profession we strive for," Allah-Mensah said.
Other members of the SOC community who were honored include retiring professor Richard Stack, an associate professor for more than 30 years. Stack's commitment to criminal justice reform led him from a career as a public defender to a PR practitioner and professor of public relations, and advocate for changing perceptions about the death penalty.
Graduating student Nazlican Togrul received the Carlton Savage Award for international students who have worked to promote community among domestic and international students.