Communications
SOC Professors Help AU Focus on Diversity
By Michael Wargo
January 24, 2011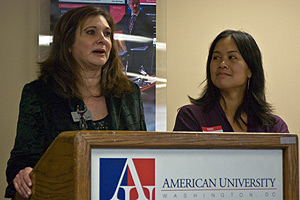 Faculty and staff from across the campus gathered for a diversity breakfast meeting last week, hosted by the School of Communication's diversity committee.
The committee asked the more than 60 faculty and staff attending, "As an institution, how do we engage diversity in the service of learning, from recruiting a diverse student body, faculty and staff to transforming curriculum and pedagogy that reflects and supports institutional goals for excellence?"
The committee, comprised of professors Carolyn Brown, Gemma Puglisi, Leena Jayaswal, Angie Chuang, and Bill Gentile, spoke of the need to extend this diversity discussion to the entire university. Puglisi says SOC plans to remain active. "We are hoping to continue this dialogue."
Fanta Aw, Assistant Vice President of Campus Life & Director for International Student and Scholar Services, framed the discussion from the perspective of her long service at AU and shared her insights into the historical efforts to increase diversity. She enumerated important steps taken in the last few years, including a faculty retreat and leadership focus on campus diversity and inclusion, opening the Women's Resource Center in Campus Life, and increased institutional investment in financial aid for Pell eligible students to increase soci-economic diversity at the undergraduate level. She challenged the group to continue on-going efforts to link diversity and excellence: "This is work we cannot afford to get tired of."
Aw also praised SOC for leading the way in the discussion of diversity. "SOC has become a trailblazer in getting us engaged in this," she said.
After breaking into smaller groups, participants called for changes to curricula and increased investment in retention and recruitment. There was general agreement that the University needs to improve the execution of diversity programs and institute measures of accountability. Others proposed a celebration of diversity, a stronger web presence, and commitment to a vigorously inclusive culture by AU's leadership.
Professor Brown reflected, "I think it was clear that the diverse faculty want their voices heard and want constructive change on this campus."
SOC Dean Larry Kirkman, who attended, reflected, "This gathering signals the dedication of faculty and staff across the campus to realizing our goals for diversity and inclusion. The School of Communication's diversity policy and the work of our faculty and staff Diversity Committee reflect the spirit of this discussion and are guiding our commitment to increasing diversity and building a culture of inclusion."