On Campus
Three Great Fall Film Series at SOC
By Rosemary D'Amour
October 4, 2010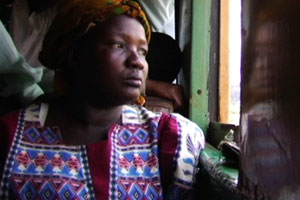 Film and visual communication are powerful ways to connect people and tackle important cultural and political issues that the world is facing. 
That theme is ever-present in the three film series sponsored by the American University School of Communication this fall, one for almost every night of the school week.

Green Screen
Tuesdays Sep. 21-Nov. 16
The sixth annual fall film series from AU's Center for Environmental Filmmaking and Filmmakers for Conservation is Tuesday nights at 7pm in the Wechsler Theater on the third floor of Mary Graydon Center.
Professor Chris Palmer, the sponsor of the event, says that his hope is to inspire future generations, who will be the harbingers of change in environmental policy and filmmaking.
"We hope that people will have an increased sense of new possibilities for themselves and the world, and how to solve some of these seemingly intractable issues we're facing," says Palmer.
Cultural Revolution
Wednesdays Sep. 15-Nov. 17
On Wednesday nights at 7pm in the Wechsler Theater, Professor Lenny Steinhorn will lead a series that highlights films that spoke to or articulated the Baby Boomer generation—dealing with issues of race, feminism and war in the 1960's.
The film series is part of a course Steinhorn teaches on Baby Boomers, whose impact is still being felt more than 50 years later, he says.
"So many of the debates and issues we see today are driven by the experience that the Baby Boomer generation had," says Steinhorn. "And in these films, you can see it from the inside out, and gain a better understanding of where we are today and why we are where we are today."
Our Shared Humanity
Thursdays Sep. 23-Oct.28
The 11th Annual Human Rights Film Series, presented in the Katzen Arts Center Thursday evenings at 5:30pm, will feature films on a broad spectrum of human rights issues, from international aid and poverty to terrorism.
Presented by the Center for Human Rights and Humanitarian Law and the Center for Social Media, this series is one of the most inclusive, as it is co-sponsored by every school within AU and other affiliates, including the Kay Spiritual Life Center and the International Development Program Student Association.
"The issues in human rights have a really broad appeal across disciplines," says Angelica Das, Associate Director for the Center for Social Media. "And we've seen this how the series has grown over the years."
Das says the quality of filmmaking, the relevance of the issues presented, and the poignancy of the storytelling are key features to the films that are featured.
Each of the series will include discussions following screenings. All three series are free and open to the public.