Communications
SOC Professors Get Creative to Teach, Create Community Online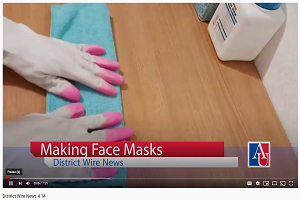 Student reporters stood alone on empty streets and sidewalks, the news anchor recorded video from her home, and interviews were conducted through applications like Zoom or Facetime. Different from past newscasts, nearly all the stories covered life during Covid-19.  
These, the latest broadcasts of District Wire News, are the weekly product of Professor Terry Bryant's Advanced TV Production course. A class that, like all classes at American University and School of Communication, is now conducted entirely online. 
Before Covid-19 and social distancing, Bryant's students met in the Media Innovation Lab, a state-of-the-art facility in SOC's McKinley building. They worked as a team to prepare the broadcast, which was shot live in the studio, with a 12- to 15-person production crew. With campus facilities temporarily closed, they've had to get creative, working from their homes with only the resources they have at hand.  
Graduate student Elise Dean has worked on the newscast as an anchor, editor, and reporter. She said the technical production work required of the newscast editor is particularly challenging "without a professor there teaching you." Students, with support from Bryant, are working as a team to figure it out. "It's a weird time, but we're making it work," she said. 
While he'd much rather be on campus, Bryant said that he's been surprised and pleased by the final product. And the students, initially skeptical, are gaining confidence in the process as they see good results and get positive feedback. "They now know that, not only can they put out a newscast, they can put out a newscast that they are proud of and one that will help them when they enter the working world," he said.  
Which is not to say the transition has been easy. In fact, teaching a class online that was designed for the studio has required him to put in many extra hours of preparation. 
Journalism Division Director Amy Eisman agrees that SOC professors faced unique challenges when transitioning online. Often classes, like Bryant's production class, use equipment that students may no longer have access to. Reporting classes also needed to adapt dramatically. Normally they require students to be out in the community reporting. To ensure students' safety, journalism faculty quickly settled on clear rules for reporting during the COVID-19 pandemic, advising a "cautious and creative" approach. 
On the other hand, she says, SOC has strengths that made the transition easier. A majority of faculty are professional communicators, able to quickly and effectively explain new routines and expectations. Also, SOC professors, who routinely use and teach technology, are more tech-savvy than some others. Several SOC faculty members had prior experience designing online courses. And course content quickly refocused on current topics, like journalism ethical decisions behind covering the pandemic. 
Professor Filippo Trevisan, who teaches Grassroots Digital Advocacy and the Political Communication Capstone, has created online courses in the past. He explains that designing and building a course for online delivery is normally a six-month process. In this case, SOC faculty had one week to adapt classroom courses and move them online. Fortunately, they had extraordinary support from the university and the SOC team. He said, "it's when one is suddenly cast in unexpected situations like this one that team spirit really makes the difference." 
Eisman agrees. She praised faculty, who approached the challenge with an attitude of "let me see what I can do," and the calm and organized leadership of Interim Dean Laura DeNardis. She also gives extra credit to SOC's instructional designer and online learning specialist Teresa Valais, "the hero of all of this."  
The instructional designer's experience and expertise have been in high demand during the transition, and she has been able to recommend research-tested methods to improve engagement. Valais favors a hybrid model that combines face-to-face instruction with other online exercises. For online presentations, she suggests dividing content into 10-minute chunks, building in pauses, and polling students regularly. She also recommends using breakout sessions for classroom discussion and giving students the opportunity to take the screen.  
Valais stresses that a student-centered approach to teaching is more important than ever. She advises professors to be aware of the environment in which students are learning and limitations they may have. And, she said, faculty have taken that advice to heart. For example, many began the transition by surveying their students to better understand their needs and to offer them choices. 
Professor Russell Williams misses working directly with students. Normally the students in his sound design class collaborate to complete projects in the classroom, working in groups of four. He said that, while he is surprised how well students have adjusted, meeting in Zoom rooms and using Google and Dropbox to share files, they are forced to do more work individually and collaboration is more time consuming than before. 
William's Executive Suite course was an easier transition, since the class was designed from the start with a large online component. The class, which gives students the opportunity to hear and ask questions from leaders in the film industry, used to meet in SOC's Doyle-Forman Theatre, where he often hosted guests remotely via Skype. He says that the class has transitioned well to meeting in Zoom, which does a good job replicating the theatre experience, accommodating a large audience while maintaining stable video and sound.  
Supporting students and preserving a sense of community has been a high priority for all faculty. Students are dislocated and anxious, concerned about their own health or health of family members. They are also worried about their grades, internships, and future career prospects. Professors recognize they do more than teach; they help maintain a support network. 
Valais advises professors not to dive right into content, but to use the start of class to let students discuss their experiences and reconnect. Some professors are trying to spend more one-on-one time with students, albeit remotely. 
Trevisan says he tries to maintain as much online contact as possible with students, using tools like Zoom. He has also found that splitting the class into smaller groups, using breakout rooms, provides students with more opportunities to contribute to discussions, connect and share their experiences. 
While Trevisan misses the classroom, and the "truly spontaneous and creative interaction" that happens there, he, like other SOC faculty, is using his creativity to make the best of a difficult situation. Last week he hosted "pet week" on Zoom, something that would never have been possible on campus.  
Williams believes that, overall, the transition has been harder on students than faculty. "They are probably under more pressure than we are," he said. "But everyone realizes we are on the same page, reading this book one paragraph at a time."