Communications
SOC PRSSA Celebrates Another Award Winning Year at 2019 Conference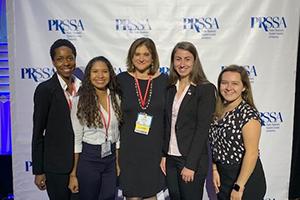 Last month, the American University School of Communication (AU SOC) chapter of the Public Relations Student Society of America celebrated another successful year at their organization's annual conference, and swept the house with multiple awards. This year's conference was held in San Diego, California and coincided with the annual gathering of the parent organization, the Public Relations Society of America (PRSA). PRSA is the major professional association for communication professionals in the United States, with over 30,000 professional and student members.   
In the midst of it all, between participating in panels, and attending and networking at various speaking events, SOC's student chapter took home a number of awards. Chapter president Jolene Levesque received the John Graham Award for outstanding leadership and commitment, and Director of Diversity Rikki Kyle received the Ofield Dukes Multicultural Student Award for outstanding academic achievement. But, to top it all off, the chapter at large took home their fifth consecutive Star Chapter award. This award is given to chapters who provide provide programming and relationship building opportunities for students.
Gemma Puglisi, faculty advisor and professor in the public communication department and joined the students at the conference and was very proud of what the students accomplished. "As the lucky faculty advisor for so many years, I am just in awe to see how amazing and dedicated our students are," she said. "They make me proud year after year. It really is a game-changer attending the conference.  It brings everything home to who we are, our profession, our university, and our world." 
This was the third consecutive conference for President Jolene Levesque, a senior, who said she really focused on broadening her network at this year's event. "My favorite thing about attending the conference is meeting PRSSA students from other schools and getting to learn about the different activities, events, and fundraisers that they implement," she said.  
Not only were the students involved, but Professor Kathy Fitzpatrick had the great opportunity to moderate a panel on women leaders at the PRSA educator's academy portion of the conference. Levesque's favorite conference speaker, Suzi Brown, the Vice President of Communications at Disneyland Resorts, talked about the opening of their Star Wars theme park. "As a big Disney fan, it was eye-opening to see just how much the company implemented to keep the employees and stakeholders informed and up-to-date on the project's progress," Leveque said. 
Looking ahead to the future, Levesque said she hopes "that the AU PRSSA Chapter continues to have a strong presence on AU's campus. Public relations is such a crucial part of any company, and students of any major can benefit from learning what PR is and why it is important."