Communications
SOC Student-Athletes Win Top Award for Recognition on and off the Court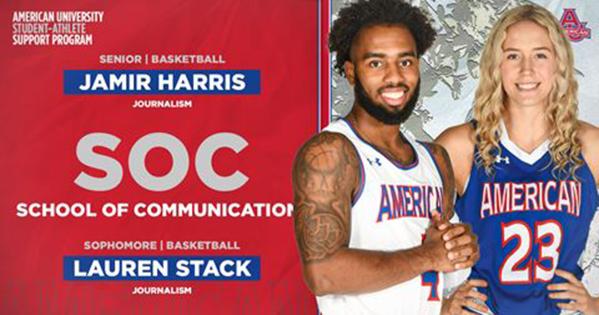 For student-athletes, sometimes, the motto is: work hard, study harder. That sentiment rings true for Jamir Harris (BA/'21) and Lauren Stack (BA/'23). These School of Communication journalism students were two out of 58 awardees of the 2021 SASP Academic and Leadership Awards, and were awarded the school award for SOC. The annual awards recognize student-athletes who not only excelled in the classroom, but also in their roles as leaders within their teams, the athletic department, and the entire AU community.
As basketball players, both Harris and Stack see parallels about what it takes to succeed academically and on the court, which they both see as a contributing to why they received this award. "I think there is a lot of overlap with leadership on the court and in the classroom," said Stack.
See what these leaders had to say about what it really means to be a top-notch student-athlete, being recognized as a leader, and future plans:
What does winning this award mean to you?
JH: Winning this award means a lot because it reassures me that I am moving in the right direction as a person, both on and off the court.
LS: I am very honored to have received this award. It makes me believe that people view me as a good representation of leadership in the student-athlete community, and at the end of the day all I can hope for is that I represent my team well.
 
What does it mean for you to be a leader, both on the court and in the classroom?
JH: It means the world to be a leader both on and off the court. I take pride in staying true to myself and what I value and feel that I am a natural born leader. I feel this way because I, honestly, want to see my peers in the classroom and brothers on the court succeed. To me, leading with my voice and my actions is the best way to help those around me succeed as well.
LS: I think being a leader in the classroom means actively participating and contributing to a class, bringing energy and enthusiasm to [what you] learn every day, and giving your maximum effort to obtain the best grades you can. I think being a leader on the court means being vocal, bringing energy to every practice/workout/lift/etc., and being a person your teammates can look up to as a good example.
 
Is there a lesson you've learned, as an athlete, that helps you in the classroom?
JH: [It's taught me] to find ways to get the job done. It won't always be pretty, but staying resilient will always prevail at some point.
LS: I think that being an athlete has helped me in the classroom overall because I am forced to be disciplined and on top of my schoolwork, as well as having a drive to do well academically, both are traits that I think athletics has gifted me.
 
Journalism is all about the stories you tell. As a journalism student, what story do you hope to tell about yourself during your time at AU?
JH: I hope to tell the story of who I am as a person and what I am about. I hope to inspire others to be the best version of themselves.
LS: I hope to be able to look back at my time at AU and tell the story of my experience and credit all of the wonderful people that I have met that have contributed to shaping me into who I am today. I also hope to be able to tell of the success that the women's basketball team had in my time here, and talk about how our legacy impacted future sports teams.
 
What is one piece of advice you have for future SOC student-athletes?
JH: Manage your time and you will shine.
LS: One piece of advice I have for future SOC student-athletes is to take their classes seriously. I think students get out of their classes what they put into them, and if they are serious about having a job in the communications field, then paying attention to the knowledge shared in the class is really important.
 
What do you hope to accomplish in your athletic efforts? Your professional/academic efforts?
JH: I chose to study journalism because I felt that it was the closest major to sports broadcasting, which is the field I specifically wanted to pursue. But, I aspire to be a professional basketball player, music artist, and eventually be bilingual (Spanish).
LS: As far as my athletic efforts are concerned, I hope to help my team win at least one Patriot League championship in my collegiate career. As for my professional efforts, I hope to land a job with a company that allows me to write about what I am passionate about, and I eventually dream of being a New York Times best-selling author.
Men's Basketball Postgame vs Loyola - Jamir Harris
Jamir Harris speaks to the media after a 71-70 win over Loyola University Maryland.