Communications
SOC Student Awarded Public Diplomacy Council Fellowship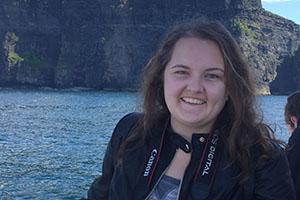 Hunter Martin, an American University (AU) School of Communication (SOC) Global Media MA student, has been awarded the Public Diplomacy Council (PDC) Fellowship. The Public Diplomacy Council is a nonprofit organization that encourages the academic study, advocacy, and professional practice of public diplomacy. It also strives to increase understanding of public diplomacy and study and share public findings and recommendations on its importance to American foreign policy.
The PDC partnered with AU to create a fellowship that allows students to engage further with public diplomacy and encourage future practitioners. Students receive direct experience with public diplomacy policies and are able to work closely with public diplomacy professionals and advocacy organizations in DC.
Martin applied to the fellowship because of her interest in public diplomacy and of the Council. She has always been interested in propaganda and in graduate school she took a class that introduced her to public diplomacy. She became very interested in the implications of public diplomacy and the government strategies and policies rather than just the result of propaganda. She is interested in being a journalist that covers international topics, and learning about cultural public diplomacy will help her progress her career.
She believes in the PDC's mission to educate their audiences and use mass communication in intercultural dialogues in an increasingly globalized world. They use education to promote public diplomacy goals and to help understand global trends.
As the PDC fellow, she will aid the Council in events dedicated to fostering conversations about the value of public diplomacy in American foreign policies and the academic study of global trends. She will be able to work on her own journalism project and research and write about a topic that is important to her. Her goal is to get her research published on the PDC website once her research is finished.
As a Global Media student, she has learned the importance of public diplomacy and the soft power in communication between nations and cultures. She wants to learn more about how nations and cultures can influence each other to do what they want without military action or threats. The soft power between cultures can help create better relationships, respect and understandings because each nation can learn more about each other's traditions and norms.
Learn more about AU SOC's MA Global Media program.