Communications
SOC Student Changemakers: Amrutha Chatty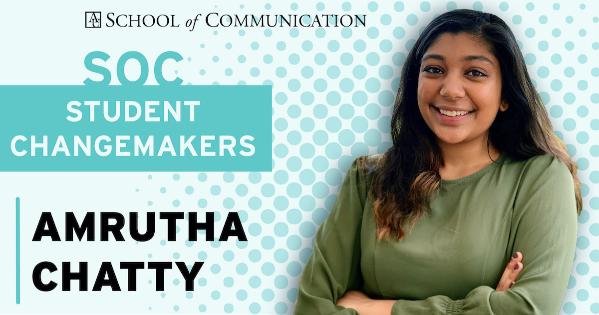 Since the start of her freshman year at AU, Amrutha Chatty became involved, on campus, by joining The Kennedy Political Union (KPU). KPU is the non-partisan, student-run and funded speakers bureau at AU committed to bringing the most politically relevant and impactful speakers to engage the community and focus on important issues across the political spectrum.
Now, in her final semester as a senior, Chatty is preparing to graduate with a B.A. in public relations and strategic communication and make changes as the KPU Director. Before stepping into her current role, she has used her experience as a member of KPU to learn more about herself, gain confidence, and gain insight about AU and KPU to serve as a director. Chatty enjoys being able to impact students' college experience, especially during the COVID-19 pandemic. "The biggest thing that I love about KPU is that it impacts so many AU students, and you get to really make a difference in the lives of people on campus," she said. "That was something huge for me that I wanted to be able to do, especially in the hard times we're having right now." As the director of KPU, Chatty emphasized the importance of carefully picking guest speakers who students should hear from, right now, that they wouldn't have the opportunity to hear from in their everyday lives. 
Advocating for diversity and inclusion has always been important to her. In her time with the student organization, she's helped to create the Deputy of Diversity Equity and Inclusion role to ensure that KPU is listening to marginalized voices on campus and reflecting the needs of students. Moving forward, the PR student hopes to continue to work with student organizations to include more voices and bring speakers from diverse backgrounds.  
Chatty recalls never seeing a woman be KPU Director during her time at AU. However, as the first South Asian woman to serve, she is honored to lead the organization during such a difficult time. "Representation is everything," she explained. "When I was growing up, I never saw people in the media who looked like me, and when I did, it wasn't in a positive light. The only positive representation was Fareed Zakaria on CNN growing up." The overall lack of representation in the media prompted the senior to be the change she wanted to see. "Not seeing anyone made me feel like there were things I couldn't do and couldn't accomplish because I had never seen anyone do them before," she recalled. "Representation gives people their sense of worth. Being underrepresented was what shaped what I wanted to see. Negative representation motivated me to find representation that could make changes." 
When it comes to representation, true change comes with unlearning harmful patterns and learning from underrepresented groups. Chatty believes a more equitable future would be one where all backgrounds are represented and understood. It would be "one where we not only see each other, but we see everything about each other, so we understand where we all come from," she said. "And have a better understanding of what it means to be a holistic person." After graduating, she hopes to use PR in political communication, and work in advocacy to push for more representation and a more equitable society. Chatty encourages other AU students to make changes in any way they can. She believes that influencing change does not always need to be grand—something as simple as hosting events that people enjoy and see themselves in, or being kind to those who live around you, and helping people in your classes goes a long way.
SOC Student Changemakers: Amrutha Chatty
Get to know SOC Senior Amrutha Chatty as she reflects on her time as AU's KPU chapter President and what representation means for her.