Communications
SOC Student Changemakers: Zachary Gradishar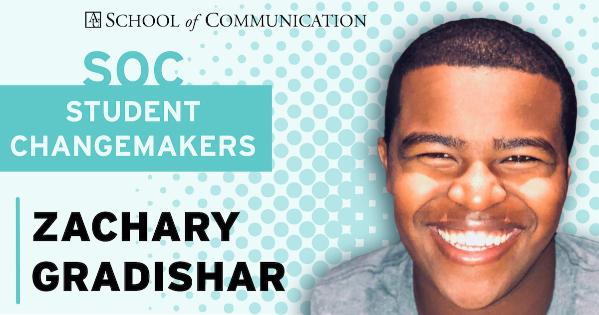 As a student studying public relations and strategic communication, Zachary Gradishar took a step into building his professional network and leadership skills by joining American University's chapter of Public Relations Student Society (AUPRSSA). Gradishar noticed a lack of diversity within the organization, as a member, and set his sights on creating more opportunities for students of color to become involved. He went from being a member to the position of Diversity & Inclusion Director, and now holds the title of VP of Diversity, Inclusion & Service. "I wanted to make changes," Gradishar said. "I am very passionate about the work that I do, and I am very proud of the work that I do. I take it so seriously." 
One of the first changes he made in his current position with AUPRSSA was the creation of the Barbara Harris Diversity and Inclusion Scholarship, which covers annual AUPRSSA dues to recipients for a full academic year. He is aware that his membership in AUPRSSA has the ability to help propel other students of color in the direction of professional and career success. He is proud to bring a seat to the table for other students of color who are interested in public relations. 
In addition to creating the Diversity and Inclusion scholarship, Gradishar has hosted and organized events pertaining to educating students about the experiences of students of color. This past November, he hosted a diversity and inclusion panel to educate non-POC students about the experiences that POC students and professionals have in the workplace. It was also an opportunity for POC students to pose questions and gain career advice from people who look like them and pursue different avenues of PR. 
For Black History Month, Gradishar hosted the PRSSA Reimagined event featuring guest speaker Stephen Leach, the Director of Diversity & Inclusion, People & Culture at The Walt Disney Studios. In addition, he also published the Black Pioneers campaign where each week he highlighted two to three Black public relations professionals and the work they've done. "I wanted to engage our members online, and also educate others on why the work that they did was influential," he emphasized. "What they did made it possible for other POC in the PR field to thrive." Due to his efforts, the diversity advocate became the recipient of the Ofield Dukes Scholarship & Multicultural Student Award.
Gradishar has also been selected for the Television Academy Foundation's prestigious 2021 Summer Fellows Program. Gradishar is one of just 50 students chosen from across the country by Television Academy members to participate in the program.
"It feels so surreal to think the same people who vote on the Primetime Emmy Awards chose me to be a PR/Publicity Fellow--it is truly an honor!," said Gradishar.
"Both Tyler Perry and Shonda Rhimes are two television pioneers that have inspired me to seek a career in the entertainment industry. Being African American, representation means so much to me given I did not see a lot of people who looked like me on television growing up," said Gradishar. "Tyler Perry and Shonda Rhimes have done so much in that regard with their work and careers. Seeing them being successful in the industry transcends a positive message to me that I can do the same."
Representation builds the inspiration behind new ideas and new passions. When it comes to Gradishar's value of representation, he recalls rarely seeing accurate representation that he could resonate with. "Having representation is so powerful and it sends such a powerful message, especially to minorities," he said. "It gives me confidence and hope that if they can do it, I can do it too. It keeps me motivated for the path I want to take." Gradishar recalls a position he held at Northwestern Medicine as the Marketing and Media Relations Intern where he was the only Black student. His experience was especially unique because he was able to be mentored by his supervisor, who was a Black woman. "She actively and consciously supported me with opportunities and looked out for any chance I could have to grow," he expressed. 
While representation is changing, there can always be more done and as times change, there can always be greater changes that follow. "A more equitable future looks like companies and organizations giving minorities and people of color a seat at the table and a voice," Gradishar said. "To be valued and heard encompasses diversity and inclusion." Moving forward Gradishar hopes to use the PR skills that he's gained to own his own production company where diversity is the norm. His aspiration is to create a space where people of color can share their stories without second-guessing their abilities and feel valued. He hopes to continue to promote diversity and inclusion within his work no matter where life takes him.
SOC Student Changemakers: Zachary Gradishar
Zachary Gradishar is a Junior at SOC studying Public Relations and Marketing and has had numerous accomplishments in his three years AU, one of which has been pushing for more inclusion and opportunities for people of color. Watch along as Zach talks about a piece of his journey and growth as a student at SOC.