Communications
Stories of Conflict: An Insight into the Colombian Civil War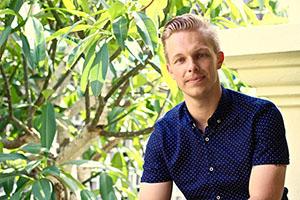 Colombia has been in a state of unrest for more than 50 years due to a civil war between the guerillas, army and the citizens. More than six million people have been displaced and 220,000 people have been killed. James Baumann, a student in the Strategic Communication MA program at American University School of Communication (AU SOC), started the Stories of Conflict Foundation to help make more people outside of Colombia aware of the atrocities occurring inside the country.
Baumann lived in Colombia after graduating from San Francisco State University. He became very interested in learning more about how the Colombian conflict affects the citizens, especially those who have been internally displaced. Most of the displaced people are from poor, rural villages and they don't have access to adequate housing or education. Stories of Conflict is an effort to give a voice to those who have been displaced.
While in Colombia, Baumann interviewed Ceferino Marquez Tejedor, a displaced street vendor. Tejedor told Baumann why the peace process is struggling to work: "The peace process reached an agreement with paramilitaries. The paramilitaries were promised a lot. However, the government never kept those promises. Nowadays many of those paramilitary members are part of criminal gangs because that's what they know how to do, shoot and kill."
As part of his work, he is currently working with two organizations in Colombia -- the Company of Mary and Germen de Paz -- to help coordinate where funds should go. He works with both organizations to assess where internally displaced people have the greatest need, primarily in regard to education, food, and housing. He also works directly with people that he has met. For example, Asteria Díaz, a seamstress that he interviewed, requires new sewing equipment, so he is working with her to find the tools she needs to support her family.
Baumann chose to attend AU's Strategic Communication MA program because of its focus on advocacy and international relations. Through his education, he is able to analyze the internally displaced peoples' culture profile from an academic point of view so that he can better analyze their financial needs. His new skills will help him start a dialogue about the Colombian conflict and increase the amount of donations to help the internally displaced.
If you are interested in learning more about the Colombian conflict and the Stories of Conflict Foundation or getting involved, visit www.storiesofconflict.com.
Learn more about AU's Strategic Communication Master's program.