Communications
Students Earn Analytics Certification and Professional Experience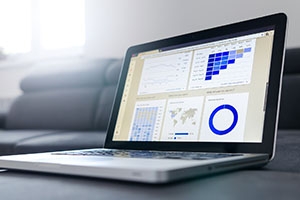 Being able to evaluate the success of any public communication campaign is essential, and the ability to do so in real time gives a strategist the opportunity to course-correct in time to save resources and win the day. It's crucial for students entering the field to be able to demonstrate both understanding of what can be measured and how to interpret it, as well as how to actually do it.
From the start of the semester, American University professor Jason Mollica's Comm 420 class has been working with Meltwater Analytics, a leader in applying AI to identify digital trends and extend the reach of media monitoring, to beta test the improved "Meltwater in the Classroom" online training modules. "This process echoes the experiential learning we strive to provide School of Communication students throughout their time here," said Mollica.

Mollica approached Meltwater about using his digital communication class to beta test the newly improved certification. "The students were eager to learn, inquisitive about the platform and its capabilities. They spent time exploring and gave great feedback that will help us further developing the certification for future students," said Carol Ann Vance, Meltwater's Director of University Relations. All 18 students in the class passed the exam, becoming the first students to officially be "Meltwater Certified."
Students both tested and completed the new quick video courses and certification test that is now being rolled out throughout the country. Each student provided feedback to Carol Ann Vance and to Mollica to make the certification process challenging and up to the standards that the students will face when entering the workforce.

Shawn Bond, a senior in the class, said "I enrolled in this class because I feel that digital communications is the future. Instead of mindlessly sending messages out into the digital space, I wanted to understand how to do it effectively. I wanted to understand how we can tailor messages both personally and professionally to get great results in the digital space."