Communications
Students' Film, Airing on MPT, Aims to Inspire Action to Heal Baltimore's Harbor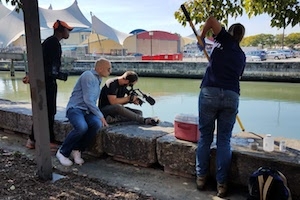 Baltimore's harbor is a national landmark and a source of pride for the people of the city. However, water pollution is a serious issue in Baltimore, affecting human health, wildlife and the city's economy.
Healing Baltimore's Harbor: A Pipe Dream? is a documentary that looks at these challenges and the work being done to overcome them. Conceived, written, produced, shot, directed, and edited by American University School of Communication (AU SOC) students in Environmental & Wildlife Production (COMM 568) in association with SOC's Center for Environmental Filmmaking and Maryland Public Television (MPT), the program debuted in February on MPT and will re-Air Tuesday, April 24 on as part of the station's Bay Week programming.
The challenge for students in this course is to put together a long-form documentary in 10-12 weeks - a tight timeline for a professional crew, and even more so for a class made up of graduate and undergraduate students, as well as alumni who were auditing the course, most of whom had never worked together before.
MPT Senior Executive Producer Mike English, who teaches Environmental and Wildlife Production and was executive producer on the film, organized the class into segment production teams, with MFA in Film & Electronic Media students Crystal Berg and Sirjaut Kaur Dhariwal acting as film producers.
Berg, an Associate Producer at National Geographic, and Dhariwal, an Associate Producer at Smithsonian Channel, bemoaned the logistical challenge of coordinating schedules and travel to Baltimore when students had so many other commitments to juggle, including full-time jobs and personal milestones such one the birth of one student's child, and Berg's own wedding. However, they praised the group's dedication to the project and willingness to pitch in wherever needed which allowed them to stay on schedule and get the footage they needed. Berg said the collaborative nature was "unlike anything I had experienced before."
Dhariwal, who had come to SOC with no background in filmmaking, said that working with English was incredibly helpful for her professionally. She said he is incredibly knowledgeable about environmental film production, and English's relationships with local environmental writers and organizations also helped the students access interviews.
English is also an expert on audience engagement, and was able to provide insights that dramatically improved the film. The co-producers agreed that the opportunity to complete a long-form documentary, from start to finish, with an experienced executive producer who knows how the process should work and lets nothing fall between the cracks, was incredibly valuable. And, of course, having a film credit on a program that airs on TV is an impressive resume-builder.
Berg and Dhariwal share a hope that the film will not only highlight the current problems the Baltimore Harbor is facing, but also the real solutions that are available, not only to Baltimore, but to other cities, and inspire communities and elected officials to act.
In March, AU SOC and its Center for Environmental Filmmaking held a screening and panel discussion, hosted by SOC professor and CEF director Chris Palmer, where the audience questions suggested that the film was engaging and thought-provoking. The panelists included many of the student filmmakers (The filmmakers were Crystal Berg, Sirjaut Kaur Dhariwal, Rebecca Castaneda, Danielle Criss, Keeli Howard, Mike Kuba, Madison Long, Carlos Macher, Charles Mullen, Nawfel Raghay, Alec Smyth, Dee Starnes, and Jean Vozella) and English.