Communications
Students Head to L.A. for Insiders' Look at Entertainment Industry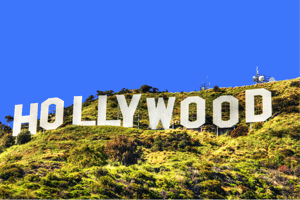 American University School of Communication (AU SOC) students and recent graduates are getting a head-start on a career in L.A. with a week of networking, visits to TV and film studios and candid discussions with Oscar-, Emmy-, and Golden Globe- winning professionals working across the entertainment industry, many of whom are AU SOC alumni.
Top executives participating this year include Barry Josephson, President of Josephson Entertainment; Adam Goodman, founder of Dichotomy Microstudios and former president of Paramount Studios; Roy Lee, Founder of Vertigo Studios; and Danielle Gelber, producer and former Wolf Films and Showtime executive. Charlie Wachtel, 2019 Academy Award winner for best-adapted screenplay writer for BlacKkKlansman will also meet with students, as will Anedra Edwards, editor and visual effects for the television series BlackLightning and Crashing; Eddie Levy, actor for the CBS television show AP Bio; and James Middleton, executive producer of Altered Carbon.
The trip will also include site visits to CBS to meet producer Clyde Kaplan and experience a live taping and post-production of The Bold and the Beautiful; Amblin Entertainment where they will meet with Co-President, Darryl Frank; Nickelodeon where students will interact with staff from various divisions; CW Network, where they will be hosted by hosted by Mitch Nedick, CFO; and a tour of Warner Brothers Studios.
"I hope to make connections and get a sense for the job market and the L.A. area," says Kat Cooper, one of the students attending the L.A. Intensive this year. "Being one of the few female screenwriters/directors geared toward horror and thriller, I would like to connect with individuals who could advise on how to break out in that particular genre and industry and how to stand out from the crowd."
By the end of the L.A. Intensive trip, in addition to valuable contacts who work at major networks and studios, students will have a better understanding of the entertainment industry and landscape for work in the field of communication. Students will also see first-hand the opportunities and challenges that come with working and living in L.A.
The program, led by Assistant Professor Sarah Menke-Fish, is open to undergraduate Juniors, Seniors, graduate students, and recent alumni.
The group of students who will be attending the 2019 trip are Queen Alfred, Anselm Beach, Rebecca Castaneda, Kat Cooper, Adam Dembeck, Karen Franz, Emily Hall, Lizbeth Kariuki, Amanda Luthy, Carlos Macher, Nicholas Merkerson, Pharrah Poliard, Melany Rochester, Naz Sanjana, Katherine Vasiliev, and Jung Bin Yoon.