Television & Film
Students Head to Vegas for Hands-on Experience with Sony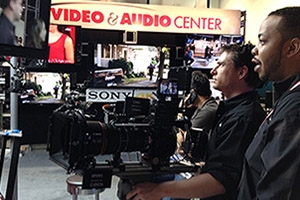 SOC students Stephen Rosenberg, who is pursuing an MFA in Film and Electronic Media, and Kayla Lattimore, who is in the MA of Film and Media, will be attending the annual NAB (National Association of Broadcasters) conference in Las Vegas later this month. 
Both Rosenberg and Lattimore knew they wanted to be storytellers from a young age. Rosenberg, who has an undergraduate degree in broadcast journalism, is now bringing together his skills in news reporting and passion "for connecting with viewers by telling their stories about the human condition" by creating documentary and narrative short films. Lattimore was inspired to forge a career in creating social documentaries after spending time as an AmeriCorp Vista. She realized that documentaries and other forms of media have the potential to make positive social impacts on the world. 
During the conference, these students will assist with Sony's exhibit, by demonstrating their newest equipment, and experience the latest media technologies. They hope the conference will be a wonderful learning opportunity and will give them the chance to network with other media professionals.