Communications
Pulitzer Center Fellow Natalie Hutchison Explores the 'Boiling River' and Shamans in Peru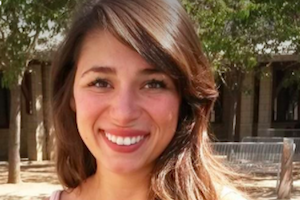 Natalie Hutchison (SOC/MA'17) is a Freelance Multimedia Producer who is working on a documentary film about the Boiling River in the middle of the Peruvian Amazon with fellowship funding by the Pulitzer Center. A story about feminism in Amazonian rainforest of Peru, Mother Nurture: Female Shaman Defines Girl Power in Male-Dominated Culture, has already been published by the Pulitzer Center.
Hutchison was a Multimedia News Production Intern at the United Nation headquarters in New York until December 2017. She holds her MA in Journalism and Public Affairs with an international specialty from American University.
Hutchison's interesting experiences led SOC writer Savitree Jeamkijrung to talk to Hutchison about her passion for telling stories.
SJ: Please tell us about your passion for journalism.
NH: I think a vast number of issues, be it social, political or personal matters, stem from the overarching lack of listening. Effective journalism means engaging in dialogues both within and outside of our ideologies and overall just asking "why" more. Once you have that answer, that story, sharing that understanding with the rest of the world is what journalism can, and should do. I've always been curious, and even as a kid would look for the reason behind everything. I think now I'm just doing that professionally and get to be a part of sharing the information with others. This doesn't mean reaching unanimous conclusions, but it does start a necessary dialogue.
SJ: What is your goal as a content producer?
NH: I want to share fresh perspectives, personal stories if that's not too unimaginative to say. I think you can judge a memorable story how you judge a good conversation-was it interesting, and did it teach you something new. Good storytelling to me is a non-threatening way to ask the questions we otherwise wouldn't in person. My goal is to have the difficult conversations, ask the uncomfortable questions so I can then tell the untold story, be that as a film or in writing.
SJ: You worked for the United Nations (UN). What is the most interesting part of working there?
NH: The most interesting and valuable part of working there has been talking to people on the ground-there's a lot of interaction with agency heads because they're accessible at the secretariat, but getting the story from the individuals witnessing the challenges and changes occurring that are backed by the UN but also external; that has been incredibly rewarding and what completes a piece.
SJ: What was the most exciting story you covered while working with the UN?
NH: The most memorable story I've covered thus far was when the world's most human-like robot (Sophia) sat on a panel for science and technology, making her the first robot to participate in such an event at the UN. I spoke to her creator about the future of robotic intelligence, which he described as essentially limitless- I remember he said, "If you can study it, you can recreate it," and that really stood out to me in a sort of inspiring and eerie way. Of course, I spoke with Sophia, so I've now checked "robot" off from my list of interviews.
SJ: What brought you to American University?
NH: AU's program bridged the gap between my passion for international affairs and writing. I couldn't find anything quite like it, and when I researched the faculty, the campus network, I realized I'd be gaining more than a classroom education and get a true catapult into the working world-I was right.
SJ: What is the best thing you gained from the Journalism and Public Affairs program?
NH: My experience in this program was a testimony to the idea that your passion is what drives your success. In a way, I didn't follow the program trajectory; I learned quickly that I wanted to expand my video skills. Our coursework wasn't designed for a specialty in long-form video storytelling; it gave us solid foundations in news writing and broadcast television. But when I realized I wanted to explore documentary style work more, I found the resources and the people who wanted to see my passion flourish. Pretty soon I was in a room with like minds and that's when the opportunities started to present themselves.
SJ: What are two main skills or lessons you learned at AU that you use now?
NH: Technically, two main skills I took from AU that I apply daily are strong writing, probably the most valuable skill to have, and also having a one-man-band mindset; being prepared to produce a piece completely on my own.
SJ: You applied to be a Pulitzer Center fellow, and your story pitch won the funding to make it a reality. How did you come up with the story?
Actually, my original idea completely fell through. The story I pitched and intended to pursue was a topic I had researched for months, I felt confident about the subject and it peaked the interest of the Pulitzer Center enough to award me the grant. The political climate became increasingly violent and too much of a risk for a fresh international reporter so I switched gears. I have a profound personal relationship with Peru, and I started to think about what I could do there. I remembered I had listened to a TED talk on this "Boiling River" in the middle of the Peruvian Amazon - an anomaly that was thought to be a legend but was rediscovered by a geophysicist who was now studying it and trying to protect it. I knew I had to expand on this story once I learned this river and the surrounding area are legally an exploitable jungle. I managed to get in touch with the scientist and dozens of other people who would help me along the way in documenting this place, its community, and off I went!
SJ: Do you have any advice to give to someone thinking about a career in journalism?
NH: Your job is not to get both sides of the story, it's to get all sides of the story.