Communications
AU-Pulitzer Center Fellowship Gives SOC Students International Opportunities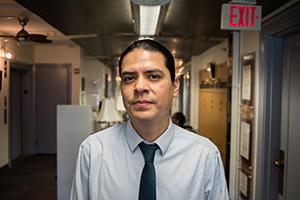 The American University-Pulitzer Center International Reporting Student Fellowship, now in its fourth year, has helped ambitious AU students pursue international reporting projects and create meaningful stories on challenges journalists face in Mexico, the transgender experience in Thailand, and the legacy of the covert US bombing campaign in Laos, among others.
AU School of Communication (SOC)is a member of the Campus Consortium of the Pulitzer Center on Crisis Reporting, which is an important part of the Pulitzer Center's awareness campaign about global systemic issues.
AU-Pulitzer fellows are given the chance to work on international reporting projects involving underreported systemic issues that can cover topics ranging from religion, race, gender, public health, and more.
Current fellow Kristian Hernandez has been working on a project in Guatemala since his graduation from the Master's in Journalism and Public Affiars program in May 2018. Before coming to SOC, Hernandez worked for The Monitor, the largest newspaper south of San Antonio, where he created an unofficial immigration beat focused on migrant deaths. With the help of the nonprofit organization Angels in the Desert, Hernandez helped recover two bodies that were identified and returned to their families.
His current project follows his journey as he visits the families and gravesites of the two individuals who he helped identify on the U.S./ Mexico border.
Past fellow Kent Wagner traveled to Malaysia and Indonesia to document how illegal logging, deforestation, mining, climate change and habitat loss has affected the native inhabitants, particularly the indigenous tribe known as the Dayak.
His related project, Native Voices: The Struggle for Life and Land, has been nominated for a College Television Award, also known as a student Emmy, in Non-Fiction/Reality.
AU SOC and the Pulitzer Center also work to help the public understand the high-risk but important work of journalists and to help disprove the accusations of "fake news" and being an "enemy of the people" that are becoming increasingly dangerous to journalists' safety worldwide.
An upcoming February 27 event, "FREELANCERS" – Between Headlines and Hope, will host journalists and media creators, including former AU-Pulitzer fellows, as well as other communicators and viewers to discuss ways on how to support and protect freelance journalists working overseas.