Television & Film
Through the Valley of Death: A Student's Exploration of Police Brutality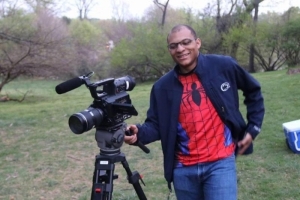 When Sid Dawson III was seven years old, his uncle died suddenly. It was his first experience with death as well as his first real contact with the police.
On November 6, 2000, the police stopped his uncle James Dawson while he was driving from Chicago to Toledo, Illinois, on an expired license and took him to the police station. By the time his parents arrived to pick him up, he was being carried out on a stretcher. 
"It instilled and amplified a fear of police in me," he said.
Dawson, a second year MFA student in film and electronic media, loves sci-fi and fantasy films but felt compelled to do a documentary about his uncle's death for his capstone project when his godmother asked him whether he would consider it.
His uncle's death remains veiled in mystery. The police claim that his uncle committed suicide while in police custody, but all of his organs were removed and cremated before the family had a chance to do an autopsy.
"There's been a blatant attempt at cover-up," Dawson said. Police brutality has always been an issue, Dawson said, but recent cases in the news have made it incredibly visible.
Dawson, who grew up in a tight military family, has focused his project on how families cope with such tragedy and explore intergenerational trauma. He has also connected with other people who have had family members killed by the police. He says that the whole process of creating the film has been "an emotional roller coaster," but that it's also been deeply cathartic.
After graduation, he would like to pursue fiction filmmaking and may also be interested in becoming an adjunct professor for screenwriting. But, first, he wants to work on his documentary full time. Currently, his film is 9-minutes long, but he plans to eventually do a 60-minute version.
"I want to create a space for people of color and people in general to talk about this," Dawson said. "The most important thing for me is to give my community a space to talk about this."
His film, Through the Valley of Death, can be viewed on Vimeo.