Communications
Disability Advocates Used Digital to Become Visible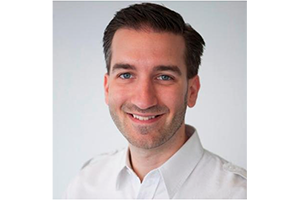 American University School of Communication professor Filipo Trevisan at American University recently published his first book, Disability Rights Advocacy Online: Voice Empowerment and Global Connectivity.
Before joining the faculty of AU, Trevisan received his PhD in political communication and public policy at University of Glasgow. While in the UK, Trevisan, who teaches in the strategic communication program, witnessed much of the transformation in advocacy that is the focus of his research.
"At the time a conservative government created anxiety (in the disability community) for a number of reasons. The leverage of social media grouped advocates together for rights that took many of them off a traditional tract. Crisis brings forward community."
Technology was a major factor for the new and emerging advocacy groups. There was a shift in how they were portraying themselves, what their focus was and how the groups were achieving results. They were able to address accessibility issues and meet with those in government to discuss policy changes. This is in contrast to the fact that more seasoned advocacy groups had not been able to penetrate the tension between themselves and policy makers.
Social media, blogging and other online platforms continue to be a tremendous tool for those advocating for the rights of, and for, persons with disabilities. Groups are able to form a community, a voice and raise awareness regarding the issues and reality they face.
The general public has a limited knowledge of persons with disabilities, and the media portrays and controls the narrative of these issues. The term "disability" often has a stigma attached to it.
"As a category it makes organizing complicated [because it groups everyone together] however, new media has helped in providing opportunities with awareness. Groups are able to maintain their identity but not be defined by them... blogs have been a powerful tool for individuals," Trevisan explains.
Some traditional news outlets have provided different views of those who have a disability. For example WNBC 4 provided a platform for viewers to contact the station flagging accessibility issues around the area. The physicality that is often associated with the term disability is not about impairments but barriers. 
Encountering such barriers is often what catalyzes persons with disabilities to become politically involved. Grassroots organizations and campaigns like Crip The Vote have emerged to rally the community as a potential voting block.

"Persons with disabilities are able to share their stories dealing with the government, daily life and dealing with communication. They can determine if the influentials are listening, whether or not they are targeting the right audience. But most importantly, I've seen the power of the personal stories," he said.
Trevisan also conducted research with Google centered around voter ecology.
"I would say that the main takeaway from my work on how people use Google during elections is that users appear to be moving away from the issues suggested by traditional forms of media (e.g. newspapers and cable) when they look for information online.
This suggests an important shift in the ways in which some voters get their information that privileges candidates, parties, and affiliated websites as direct sources of information over legacy media outlets" To see more about this project here.
Trevisan, though he shies away from speculation, believes that advocacy groups for those with disabilities will continue to use technology and social media as leverage to group together for rights and change in policy. There is concern that organizations and funding for disability issues could potentially be threatened if not dissolved under a Trump administration.
"We are not in ordinary times," Trevisan stated.
Looking forward, Trevisan wants to examine the use of blogs. Blogs have served as a powerful tool for advocates and the disability community. They serve as more than just a platform, but a window for those on the outside looking in. He continues to work with focus groups to gain more insight on how technology and social media can benefit persons with disabilities. He hopes that as things progress access to these things will become more prevalent and training would accompany those who can benefit from it.
Follow Trevisan on Twitter @filippotrevisan 
Learn more about an MA in Strategic Communication.