Communications
Unlimited Creativity and Unprecedented Access Power Alum's 'Nomadas'
Traversing miles of challenging underground volcanic terrain, maneuvering people and equipment surrounded by massive mammals, and outrunning car smugglers -- just another day for adventure filmmaker and American University School of Communication (AU SOC) alumnus Emiliano Ruprah while on production for the documentary Nomadas. Working in partnership with Oscura Producciones Mexico, Earth-Touch, and in association with the Smithsonian Channel, Ruprah takes an intimate look at how some of the world's most charismatic animals fight to survive in Mexico's wild. Nomadas makes its US debut Tuesday, October 27 as part of the Films Across Borders: Stories of Resilience and Hope film series co-presented by AU in partnership with embassy cultural organizations, arts institutions and environmental groups. Nomadas is co-sponsored by AU SOC with the AU Center for Environmental Filmmaking, the AU Center for Latin American and Latino Studies, the AU Entertainment and Media Alumni Alliance, the Mexican Cultural Institute and the Environmental Film Festival in the Nation's Capital.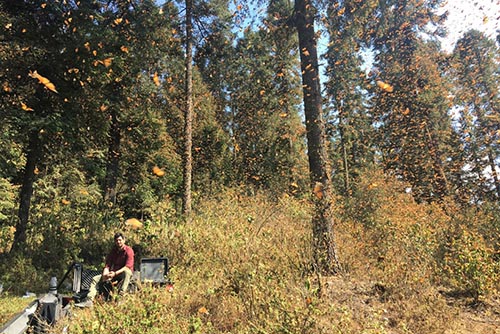 In addition to showcasing Mexico's captivating and diverse biosphere, Nomadas is the first wildlife film to be made in Mexico utilizing an entirely Mexican crew. Ruprah felt strongly that providing filmmaking jobs was an important part of the film's mission, and he is hopeful that Nomadas is the start of a new era in Mexican wildlife filmmaking. "Mexico is one of the most megadiverse countries of the world," says Ix-Nic Iruegas, executive director of the Mexican Cultural Institute, co-sponsor of the live-screening and panel. "Emiliano Ruprah, proud Mexican and alumnus of SOC-AU," she said, "captured beautifully the resilience of multiple species, both endemic and migrant, which thrive in our environment to ensure their survival. This film undoubtedly displays the talent and technical prowess of an all-Mexican crew, which had the support of the Mexican Ministry of the Environment, the Mexican National Commission for Protected Natural Areas, and the Mexican Institute for Cinematography." Iruegas is also proud that the Smithsonian Channel is associated with the film. She said, "the MCI gladly co-presents this US premiere with its long-standing partner, American University".
Talking to us from Sicily, Italy, Ruprah's passion for storytelling and commitment to conservation is apparent. With Nomadas, he explained "I wanted to highlight this beautiful country and its amazing habitats, knowing that those habitats are constantly being threatened by industrialization, tourism, urbanization and the potential cutting of government funds. Even well-meaning wild-life tourism," he expanded "has become problematic as it threatens the stability of fragile ecosystems. As we filmed wildlife, we often had to intervene to clean environments from plastics and other human waste."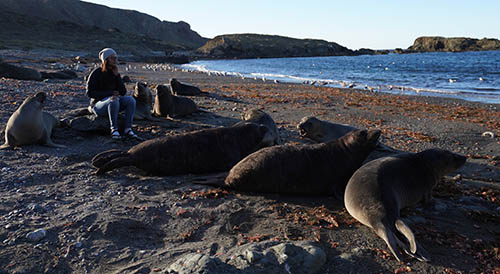 Ruprah's team was committed to upholding the strictest ethics while filming and made sure not to disturb or misrepresent the natural habitats they portrayed. "So no props, no trained animals, just pure wildlife shoots," said Ruprah. Always travelling with a biologist, they headed to remote locations such as Pinacate Peaks to reach a maternity cave of forty thousand bats and the Archipelago of San Benito to film elephant seals. In order to capture the spectacular shot of butterflies soaring into the sky in unison after waking from their dormancy, Ruprah and his crew hand-carried their crane up a steep mountain. They built a dolly in the wild to secure the shots of baby turtles making it out to sea. Patience, focus and dedication were pivotal to their success. "Every shoot was a challenge," said Ruprah. "When you're shooting off the map, unpredictable things will happen - but definitely worth the effort. The most magical film set in the world is the earth itself."
This year's Films Across Borders theme of resilience and hope is portrayed powerfully in Nomadas. Each of the animals documented is "a survivor," Ruprah said. "Every single species goes through this insurmountable series of herculean obstacles to have their offspring survive – very much like humans." Flamingoes, for example, must overcome months of nearly starving themselves in one of the saltiest and driest environments to provide food for their hatchlings and provide protection from the rain, the wind and the crocodiles. Like ballerinas, Ruprah explained, "flamingoes seem very fragile because they are so elegant, but they are incredibly strong and tough."
Ruprah's experiences working at National Geographic, Earth-Touch, Discovery Channel, were instrumental in helping him formulate the story concept, orchestrate a plan of action and secure funding for Nomadas. The feature length documentary featuring 12 different species took two years of pre-production planning and one year to film and edit. Future plans for Ruprah include filming whales in Mexico, a short about Lacandon people of Chiapas, and a story about fishing communities and fishing communities in extreme environments.
Born in Mexico to Italian and Indian parents, Ruprah moved to Washington, DC when he was 10. He discovered his passion for filmmaking his senior year as a Latin American History major and English minor at the University of Toronto. Unable to sleep due to the stress of finals he came across one of the few movies he had saved (in the days before internet streaming) -- Steven Spielberg's Munich. Hoping he would doze off by watching the film, he instead ended up intrigued. Watching it a total of 24 times, each time he became aware of another component involved in creating the film. Ruprah explained, "Once I started realizing that construction, I thought back to my English classes about structure such as how sonnets were developed. How there is this secret mathematics to storytelling and how that wasn't such a big jump from literature, history, and writing to filmmaking."
Not ready to make the leap into filmmaking just yet, Ruprah took a couple of years off to travel and work in a range of different industries before coming to AU to earn his Master's of Film and Video in 2014 (the predecessor to SOC's Master's of Film and Video Production). He chose AU for its strong journalistic and documentary expertise. Still in touch with many of his professors, including John Douglass, Larry Engel, and Bill Gentile. "Emiliano Ruprah's documentary, Nomadas," Gentile said "is a powerful and stirring reminder of the Earth's glorious natural wonders, and of our responsibility to respect and to help preserve them. As a filmmaker, Emiliano has proven to be a star among the constellation of star filmmakers graduating from SOC. As an instructor, it has been my honor to work with Emiliano and with other defenders of our planet like him."
Ruprah is looking forward to discussing Nomadas with one of his favorites professors, Maggie Burnette Stogner, in the live virtual panel discussion Oct 27.
Other film panels in the series co-hosted by AU include For Sama on Tuesday, Oct 6; Do The Right Thing on Tuesday, Oct 13 and The Serengeti Rules on Tuesday, Nov. 10.
Complete Films Across Borders Series information available at www.filmsacrossborders.org