Communications
Untangling the Issues of Today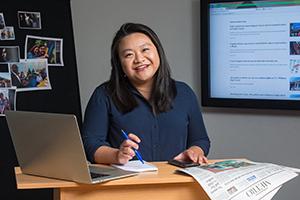 In Mechanicsville, VA, an area steeped in Civil War history, community members came together to debate the proposed renaming of two schools honoring Confederate figures.
The discussion over the place of Confederate symbols in public places has been occurring across the country after violence turned deadly during a 'Unite the Right' rally in Charlottesville, VA.
Many institutions decided to change them. In Mechanicsville, the resounding response was to keep them.
Debbie Truong, a recent journalism and public affairs graduate, covered these events as part of her job as a Washington Post fellow. She covers education in Virginia, reporting on issues that took the national stage in the year of her fellowship, including student activism, teacher diversity, and school shootings.
When it came to the Mechanicsville story, Truong strived to untangle the inherent complexities that accompanied the debate. She spoke with many individuals, including African American students, who attended the schools during a time when they experienced racism and felt unaccepted by their peers.
"I think it was interesting to see two schools that wanted to keep their names and get a sense of why there's an attachment to them in the first place," Truong says.
Because to Truong, that's what journalism should do--help readers fathom lives beyond their own and draw people closer to a point of understanding.
WORKING WITH THE BEST IN THE CRAFT
Truong started her fellowship at the Washington Post immediately upon starting the journalism and public affairs master's program at American University. It was like having a full-time job, she explains. When she wasn't in class, she was working at the Post.
"It's incredible to be in that environment and be challenged and pushed in my work merely by being surrounded by people who are so good at what they do," Truong says.
The range of stories she's worked on is diverse. From a student being kicked out of class for refusing to stand for the pledge of allegiance to how difficult it is for staff members to live on a $28,000 salary in one of the wealthiest counties in the country, Truong's covered thorny issues that impact everyday lives, even if people don't realize it.
"The great thing about a beat like education is schools touch all corners of life, so you get to talk about poverty, inequality, housing and really great things that happen in schools like kids winning awards," Truong says.
THE AU EXPERIENCE
Truong graduated from Syracuse University in 2014, where she double-majored in newspaper and online journalism and political science. Before graduate school, she worked in the field for three years at daily newspapers like The Patriot-News and the Richmond Times-Dispatch.
In addition to the Post Fellowship, Truong was drawn to AU's program because of the prestigious faculty, DC location, and investigative focus.
She was blown away by faculty members like John Sullivan, a Pulitzer winner, Amy Eisman and Lynne Perri, who have worked for USA Today, and Charles Lewis, who founded the Center for Public Integrity and the Investigative Reporting Workshop (IRW) that's based in AU's School of Communication.
"Listening to professors share stories of their time reporting abroad, of breaking an investigative piece or digging into data to find wrongdoing both inspires and pushes me to work hardest at my own reporting and to pursue challenging stories," Truong says.
Troung was also impressed by how the School of Communication emphasized modern digital tools without compromising the importance of shoe-leather reporting. She credits Jennifer LaFleur, who recently edited a Pulitzer finalist story, and her data journalism class for teaching skills that not many working journalists possess.
The program offers three specializations: investigative, broadcast, and international journalism. Truong's investigative focus allowed her to delve into stories and develop skills that she hadn't had the opportunity to cultivate in newsrooms where the focus is on filling the next day's paper.
"I think a lot of schools put emphasis on basic news reporting, and that's vital, but to be able to say you have a degree and experience in investigative reporting techniques helps differentiate you from other applicants," Truong says. Investigative journalism has the ability to speak truth to power and draw light to where there is none, Truong says.
She cites the Washington Post's recent Pulitzer award for its investigation of Russian interference in the 2016 US election. Not only did the team of journalists exemplify what reporters are meant to do, they also generated a huge amount of public interest and helped set the stage for the special counsel's ongoing investigation of the Trump administration.
"There will always be quick-hit stories that capture people's attention for a short period of time, but the best work I've seen people do–and the most attention journalism has received–has risen out of people carrying out the core mission of what the craft is supposed to do," Truong says.
Learn more about our journalism graduate programs, and request information.