Communications
USA Today Ranks American University Journalism Program in Top 10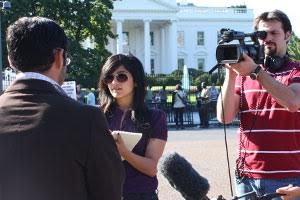 American University (AU) is one of the top ten colleges in the U.S. for students to earn a B.A. degree in journalism, according to the latest USA Today/College Factual rankings. The report cites AU's Washington, DC location as an "optimal area for students interested in news and politics."* 
AU's journalism B.A. program, offered through the School of Communication (SOC), uses the nation's capital as its classroom, sending students into the nearby halls of Congress and leveraging long-standing relationships with the likes of NPR, NBC, Vox, Bloomberg BNA, The Washington Post, and USA Today. 
Students in the program build their professional practice on top of strong foundations in basic digital skills, writing and reporting across audio, video and mobile platforms. Industry-leading faculty also teach courses from the heady to the hands-on, from advanced web design to Race, Ethnic and Community reporting. 
"Rankings such as this help raise our visibility, but the real measure of our success lies in the tremendous accomplishments of the students, faculty and alumni who are associated with SOC's journalism programs," said Dean Jeffrey Rutenbeck. 
In addition to undergraduate offerings, SOC also has a broad array of graduate journalism programs that immerse  students in one of the most dynamic and influential cities in the world. 
The USA Today/College Factual poll is the latest in a series of strong external rankings for SOC. LinkedIn ranked AU the #4 graduate university in the nation for media professionals and its film program was named #8 in the nation by USA Today. We were also tagged as a Top 5 Strategic Communication program by PR Week and Princeton Review ranked our Game Design master's program 21st in the nation. 
*Excerpted from the report: "College Factual, who is working with USA TODAY to provide rankings for popular college majors, bases their data on a unique selection of characteristics, including the quality of the overall school, Focus Coefficient and the starting and mid-career salaries of graduates within the major, among other factors.