Communications
USA TODAY Washington Watchdog Fellow Announced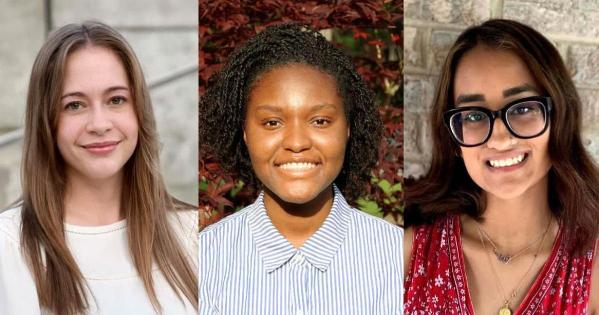 Three prestigious journalism fellowships have been awarded to American University School of Communication (AU SOC) journalism graduate students for the academic year 2021-2022.
Rachel Looker is the inaugural USA TODAY Washington Watchdog Fellow. She will work in USA TODAY's Washington, D.C., bureau for both the political and investigative reporting teams throughout the year, mining public records, reporting and practicing data-driven journalism.
Sophie Austin, former editor-in-chief of the AU Eagle, will work with the Center for Public Integrity focusing on data-driven journalism and reporting on issues of inequality. She will report to CPI Senior Editor Jennifer LaFleur, who also teaches data journalism at SOC.
Aneeta Mathur-Ashton will be with SOC's Investigative Reporting Workshop, assisting with one or more major investigations into government and corporate accountability on topics ranging from the environment and health to national security and the economy. IRW enjoys a range of investigative partnerships with news organizations.
"We are thrilled to have these spectacular young journalists on board in these highly competitive fellowships," said Journalism Division Director Amy Eisman. "We are particularly pleased to launch the creative USA TODAY Washington Watchdog fellowship, which allows the student to work with different teams each semester."
New This Year: USA TODAY Washington Watchdog Fellow Rachel Looker
Rachel Looker is a Washington D.C.-based reporter originally from Blandon, Pennsylvania. She is pursuing her master's degree in journalism and public affairs focusing on investigative reporting. Rachel previously worked as a staff writer for County News at the National Association of Counties covering all issues impacting county governments across the country. Prior to that role, she worked at a local television station in Allentown, Pennsylvania producing and writing online articles. She completed her undergraduate degree at Marywood University in Scranton, Pennsylvania where she studied Digital Media and Broadcast Journalism. As an undergraduate, she interned at The Rachel Maddow Show and E! News.  
Portfolio: www.rachellooker.com 
LinkedIn Profile: https://www.linkedin.com/in/rachellooker 
Center for Public Integrity Fellow Sophie Austin
Sophie Austin is wrapping up a local news internship with The Dallas Morning News. She previously interned at PolitiFact, a fact-checking organization. Austin has freelanced for The DC Line, a nonprofit covering local news in D.C. She also completed a Dow Jones News Fund data journalism residency with Investigative Reporters and Editors instructors. During the 2020-21 academic year, she served as the editor-in-chief of The Eagle, AU's student-run newspaper. She graduated in May 2021 with a bachelor's degree in journalism and a minor in environmental science. She's originally from Cincinnati. 
Twitter: https://twitter.com/sophieadanna

Muck Rack profile: https://muckrack.com/sophie-austin
IRW Graduate Fellow Aneeta Mathur-Ashton
Aneeta Mathur-Ashton is a master's candidate at the School of Communication, pursuing a degree in journalism and public policy with an international specialization. She holds a bachelor's degree in multiplatform journalism from the University of Maryland's Philip Merrill College of Journalism, and completed half of her undergraduate degree at SOC. She has covered both domestic and international news, including some notable events such as the second impeachment of former President Donald Trump and the 2021 State of the Union. 


Portfolio: https://aneetamathurashton.weebly.com/ 
LinkedIn: https://www.linkedin.com/in/aneeta-mathur-ashton-74135014a/ 
Twitter: @MathurAshton