Communications
AU Graduate Holds DC Institutions Accountable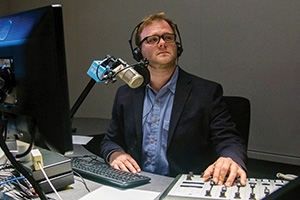 Patrick Madden Uncovers DC Injustice
Award-winning investigative journalist Patrick Madden (SOC/MA '06) holds DC institutions accountable. As a WAMU senior reporter on the power and influence beat, Patrick has uncovered injustices in how DC campaigns are funded and how law enforcement treats citizens. And much of his work has resulted in the revision of ineffective laws. 
We caught up with him to hear more about his background, recent projects and local impact.
Q: Can you talk a bit about the path that led you to AU's School of Communication (SOC) and its journalism program?
A: After graduating from Emory University in 2002, I worked a few jobs and political campaigns, but it was a role I took with C-SPAN that prompted my interest in journalism. 
I looked at a couple of journalism graduate schools, but a family friend had gone through the AU program and really liked it. And the fact that it was in DC was its biggest selling point for me. So I enrolled in the journalism master's program in 2005. 
---
Learn more about: 
MA in Journalism and Public Affairs
---
Q: How did you end up working at WAMU?
A: My first job after graduating AU was at NBC Washington. Then two years after that, I started working at WAMU. It was fortuitous timing, because they'd just had some departures at WAMU, and so I went with my SOC resume tape in hand, and they hired me on as a freelance reporter.
I freelanced there for about a year and a half before getting a full-time job. And by 2008, I was covering DC City Hall as a beat. 
Q: What types of reporting projects have you been involved in?
A: I partner a lot with different investigative organizations. After covering City Hall for a time at WAMU, I began to do more in-depth investigative reports, which involved working with AU's Investigative Reporting Workshop — a team of grad students that help with heavy-lifting research.
I also partner with Reveal, the Center for Investigative Reporting's multi-platform publishing site. A project we worked on earlier this year together, called "Assault on Justice," won the Edward R. Murrow award for investigative journalism.
Q: Can you talk more about "Assault on Justice?"
A: For "Assault on Justice," our team looked at how DC police were using the "assault on a police officer" charge. What we found was that the charge, meant to shield police from danger, was also being used as a tactic against citizens. We also found the law was poorly written, and eventually the city changed the law. 
Our team (made up of WAMU, AU's Investigative Reporting Workshop and Reveal) researched thousands of cases by hand to get to uncover this story. 
--
Request information and learn more about AU's graduate programs in journalism and public affairs.