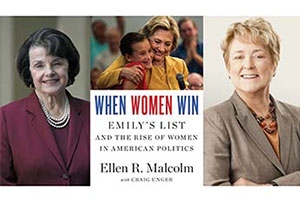 Sen. Dianne Feinstein and EMILY's List founder Ellen Malcolm will discuss women in politics at American University (AU) on April 6 at 7:00 p.m. in the Ward Circle Building.

Malcolm is also the author of Emily's List and the Rise of Women In American Politics, which tells the stories of the founding of EMILY"s List in 1985 when there were virtually no women in Congress through some of the toughest political contests of the past three decades. Feinstein has represented California in the U.S. Senate since 1992.

This conversation is a part of a series organized by AU's School of Communication (SOC) and School of Public Affairs (SPA) leading up to the 2016 presidential election.

The event will honor Dotty Lynch, a political journalist, pollster, and beloved AU faculty member. Lynch was the inaugural director of AU's Masters in Political Communication program that is jointly run by SOC and SPA.